'Altered Carbon' Season 2 Casts Anthony Mackie As New Lead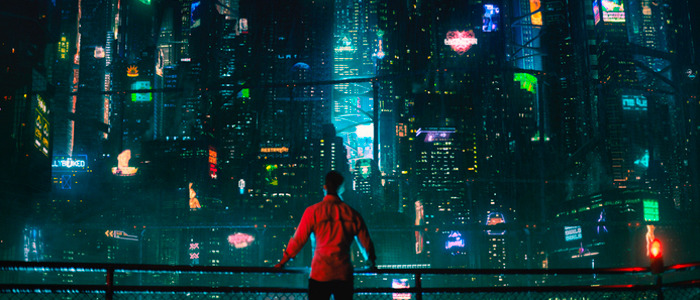 Netflix just gave the go-ahead to Altered Carbon season 2, and the show has found its new lead: Anthony Mackie. Mackie will be stepping in for previous lead Joel Kinnaman. But he's playing the same character. If you're wondering just how that will work, you obviously haven't watched Altered Carbon season 1 yet.
I was not a huge fan of Altered Carbon season 1, and it didn't seem like the show had much of an impact overall. But it apparently did well enough for Netflix to give the greenlight to a second season. And the show has a new star, to boot. Deadline is reporting Marvel Cinematic Universe player Anthony Mackie will step into the lead role of Takeshi Kovacs. This part was played in season 1 by Joel Kinnaman, but Mackie taking over isn't a huge surprise. The characters in Altered Carbon exist in a futuristic world where people can upload their consciousness into a little disc called a stack, and said stack can then be uploaded to a new body – or "sleeve", as they're called in the show.
In fact, Kinnaman's character wasn't even the first Takeshi Kovacs – at the start of the show, we meet the original Kovacs, played by Byron Mann. If this all sounds a bit confusing, that's because it is. Altered Carbon is a big, expensive-looking series with a complicated, frequently muddled mythology. Still, it's neat that Netflix is sticking with this concept. One can assume that if Altered Carbon returns for a third season, another new actor will take over for Mackie.
Details about just what the second season will be about remain shrouded in mystery. The series is adapted from the book series by Richard K. Morgan, so creator/executive producer/showrunner Laeta Kalogridis will likely be drawing on the source material for inspiration. The books span hundreds of years, so it's very possible season 2 will have a big time jump.
Here's the show's synopsis.
Based on the classic cyberpunk noir novel by Richard K. Morgan, Altered Carbon is an intriguing story of murder, love, sex, and betrayal, set more than 300 years in the future. Society has been transformed by new technology: consciousness can be digitized; human bodies are interchangeable; death is no longer permanent. Takeshi Kovacs is the lone surviving soldier in a group of elite interstellar warriors who were defeated in an uprising against the new world order. His mind was imprisoned – on ice – for centuries until Laurens Bancroft, an impossibly wealthy, long-lived man, offers Kovacs the chance to live again. In exchange, Kovacs has to solve a murder ... that of Bancroft himself.
It's kind of like Demolition Man, only with more body-swapping and less three seashells. Altered Carbon is the second big Netflix project Mackie has lined-up recently. Last month, word came that the actor would co-star with Frank Grillo in Joe Lynch's Point Blank remake, set to debut on the streaming service.