'Crazy Rich Asians' Tracking For $18 Million-Plus Opening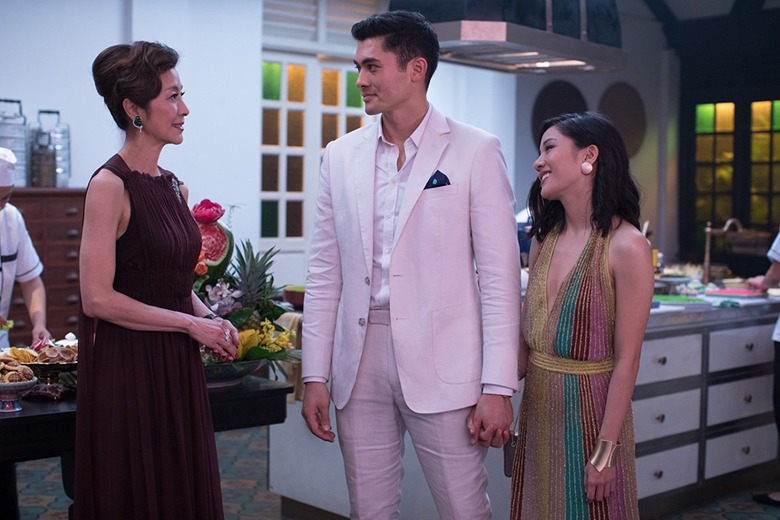 Crazy Rich Asians is looking at a crazy solid opening weekend at the box office. Early tracking numbers estimate that the Jon M. Chu romantic-comedy based on the Kevin Kwan novel of the same name will open to a respectable $18 million. Not crazy rich, but not crazy terrible either.
Variety reports that tracking numbers for Crazy Rich Asians show definite interest in the film at 31%, leading to early estimates of a $20 million opening for the film's five-day launch starting Wednesday, according to Variety.
Warner Bros. has released its own tracking, which shows the debut at $18 million.
For a romantic-comedy, a genre that has seen a decline at the box office in recent years, this is not a bad box office opening. The highest opening for a recent rom-com was 2015's Trainwreck, which debuted to $30 million.
But with the dearth of rom-coms at the box office, perhaps Crazy Rich Asians will see a boost for audiences itching for a little gaudy escapism. Netflix has already seen massive word-of-mouth success with its slate of cheesy, nostalgic rom-coms like Set It Up, and the sleeper hit success of The Big Sick last year proved that audiences want a little romance in their lives.
Not to mention the draw of Crazy Rich Asians' star-studded majority-Asian cast. Led by Constance Wu, Michelle Yeoh, Henry Golding, with appearances by Ken Jeong, Awkwafina, and Gemma Chan, Crazy Rich Asians is the first major Hollywood feature to boast an all-Asian cast in almost two decades. 2002's Better Luck Tomorrow is perhaps the last major feature film led by an Asian-American cast, and before that, 1993's The Joy Luck Club. Asian-American audiences are proving to be a major force at the box office lately and they could likely push Crazy Rich Asians over the line to a bonafide cultural phenomenon. I mean, we've been waiting long enough — and we shouldn't have to wait another decade for another Asian-led Hollywood movie!
Crazy Rich Asians opens in theaters on August 15, 2018.
Rachel Chu is happy to accompany her longtime boyfriend, Nick, to his best friend's wedding in Singapore. She's also surprised to learn that Nick's family is extremely wealthy and he's considered one of the country's most eligible bachelors. Thrust into the spotlight, Rachel must now contend with je

alous socialites, quirky relatives and something far, far worse — Nick's disapproving mother.