MoviePass Temporarily Shut Down Last Night Because They Ran Out Of Money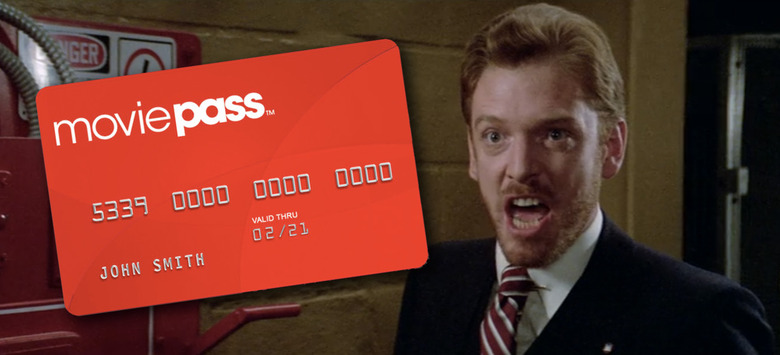 Ever since MoviePass announced their movie ticket subscription service would only cost $9.95 a month while still allowing subscribers to see one movie every day, financial experts and even your average customer has been predicting that this service wouldn't last long. However, against all odds and despite frustrating customers with constant subscription changes, including the recent surge-pricing, MoviePass has stayed alive. But last night they had a near-death experience.
Yesterday evening, subscribers were having trouble using the MoviePass service while trying to buy tickets. The company, which is owned by Helios and Matheson Analytics, posted on Twitter that they were looking into an issue that was preventing users from checking into movies. It turns out the issue was that MoviePass ran out of money and they had to quickly borrow $5 million to get it back online. That certainly doesn't sound good.
Word on the MoviePass shut down came from the company itself thanks to an SEC filing from owner Helios and Matheson Analytics detailing that they had borrowed $5 million after the service interruption last night. Here's what the filing (via Business Insider) says:
"The $5.0 million cash proceeds received from the Demand Note will be used by the Company to pay the Company's merchant and fulfillment processors. If the Company is unable to make required payments to its merchant and fulfillment processors, the merchant and fulfillment processors may cease processing payments for MoviePass, Inc. ("MoviePass"), which would cause a MoviePass service interruption. Such a service interruption occurred on July 26, 2018. Such service interruptions could have a material adverse effect on MoviePass' ability to retain its subscribers. This would have an adverse effect on the Company's financial position and results of operations."
The fact that running out of money is what caused the MoviePass shut down is disconcerting on its own. But even more upsetting is the fact that MoviePass obviously knew what was going on, but chose to pretend as if this was some kind of technical issue instead. Here are their Twitter updates from yesterday's outage:
Our partner e-ticketing theaters are not affected by this issue and you are currently able to reserve seats and check-in to these showtimes.

— MoviePass (@MoviePass) July 26, 2018
We've determined this issue is not with our card processor partners and will be continuing to work on a fix throughout this evening and night. If you have not headed to the theater yet, we recommend waiting for a resolution or utilizing e-ticketing which is not impacted.

— MoviePass (@MoviePass) July 27, 2018
As of this morning, there has been no update from MoviePass on Twitter about this issue. Furthermore, as of Friday morning, some MoviePass users still couldn't use the full functionality of the app. That could be bad news if the issue persists this weekend.
This is more bad news for MoviePass, who seems to be getting closer and closer to falling apart. Just earlier this week, the company's owner had to pull off a reverse stock split to get the price of their stock up to $14 after it had fallen to just 9 cents (and it was a problem before that too). They were at risk of being delisted from the Nasdaq by the end of the year if they continued to trade at that low of a price, and that could very well happen again, since the price was down to $6 at the start of trading today.
This sitaution probably isn't going to get any better if things like this keep happening. So enjoy MoviePass while you can, folks. It might not last through the end of the year.