'Hereditary' Is A24's Biggest Box Office Hit Worldwide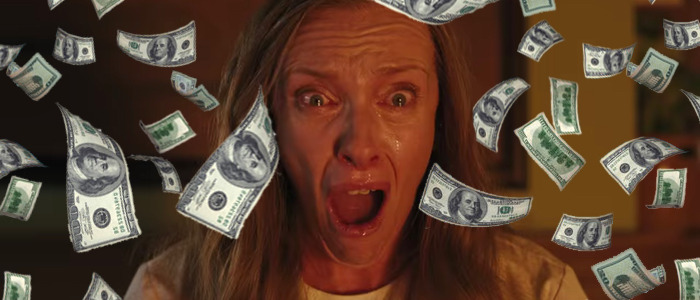 Much was made about Hereditary's very negative CinemaScore, but it seems that was much ado about nothing. Because the terrifying horror film has become indie powerhouse A24's highest grossing film worldwide. Audiences really wanted to see Toni Collette lose her mind on screen!
Ari Aster's received almost universal critical acclaim, and the early festival buzz sent the hype for the indie horror film through the roof. While some audiences didn't quite know what to make of Aster's slow-burn, dread-inducing scream-fest, horror fans embraced. And so did audiences around the world, apparently, because the film is now A24's biggest worldwide hit. Deadline reports Hereditary is scared up $77.5M at the global box office. This pushes Hereditary past previous A24 record-holder, Lady Bird.
A24 has had worldwide success before, with both Lady Bird and Moonlight. But as Deadline points out, the release strategy for Hereditary differed from those previous films:
"Hereditary differs in that it represents the first time A24 has been involved from impetus, sold international itself and set a coordinated release with overseas indie distributors."
Moonlight was produced and sold internationally by A24, while Lady Bird was sold to Universal. "We're open to working with the studios but in this case," A24's Sasha Lloyd said, "we ended up selling around the world and distributors were incredibly hungry for the film and saw what we saw early on."
Here's how Box Office Mojo breaks down the A24 top 10 box office earners as of the writing of this story.
10. The Lobster 
One can presume this list will be updated soon to bump Hereditary to the top.  The lowest grossing film related to A24, in case you're wondering, is 2017's Trespass Against Us, starring Micahel Fassbender and Brendan Gleeson.
Hereditary is one of my favorite films of the year, so I'm thrilled to see it's such a hit. I know it's not everyone's type of horror film – some people just refuse to accept any type of horror that doesn't involve jump-scares – but it's exactly the type of scary movie I love. It thrives on character, and dread. Usually when a film is a success story like this, it inspires other producers to try to cash-in. I can only hope this means more horror films in the vein of Hereditary will be on the way.