'Camping' Trailer: It's Lena Dunham's Vacation Gone Wrong In HBO Series Starring Jennifer Garner & David Tennant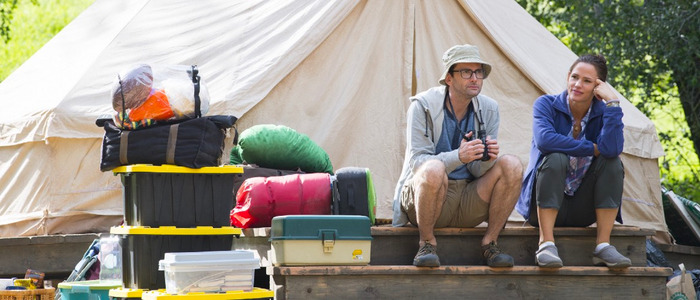 Lena Dunham has a new HBO series: Camping, a comedy starring Jennifer Garner and David Tennant as a married couple on a vacation from hell. You can watch the first Camping trailer below.
Camping Trailer
I don't know how I feel about Camping (the show, I mean; I know how I feel about the act of camping – it's awful; who would want to sleep outside?!), but I am happy to see Jennifer Garner in a lead role again. Garner's career has taken a weird turn in recent years, and the most prominent role she's had is in Capitol One commercials. But the actress seems to be experiencing a resurgence. She appeared (and was quite good) in this year's Love, Simon. She has the upcoming action movie Peppermint. And then she also has Camping, a new HBO comedy from the Girls team of Lena Dunham and Jenni Konner.
Dunham can be a bit polarizing, and she and Konner just recently ended their producing partnership. Still, for all its flaws, Girls was a (mostly) acclaimed series. And if you didn't like Girls, Camping looks like something completely different, so you might want to give it a shot. In the series, Garner and David Tennant play married couple Kathryn and Walt. Kathryn plans out a weekend camping getaway to celebrate Walt's 45th birthday, and things go terribly awry.
How this will translate into a full TV series remains to be seen – the material sounds as if it would lend itself better to a film than a series. Camping is actually a remake of the 2016 British series of the same name, but with an American twist. For comparisons sake, here's a trailer for the U.K. version. Warning: it's extremely NSFW.
Camping UK Trailer
In addition to Garner and Tennant, Camping stars Janicza Bravo, Arturo Del Puerto, Brett Gelman, Juliette Lewis and Ione Skye. This trailer is very brief (it's a teaser), but I can already tell this is going to be one of those cringe-humor shows where everything is very, very awkward and watching it makes me feel anxious. So I might just skip it! But should you be interested in Camping, you can catch it when it premieres on HBO on October 14, 2018.
Camping stars Jennifer Garner and David Tennant as Kathryn and Walt, a not-so-happily married couple. A meticulously planned outdoor trip to celebrate Walt's 45th birthday is derailed by uninvited guests and forces of nature, turning the weekend into a test of marriage and friendships. From executive producers Lena Dunham and Jenni Konner, starring Jennifer Garner and David Tennant, Camping premieres Oct. 14 on HBO.