'BoJack Horseman' Is Coming To Comedy Central Following Deal With Netflix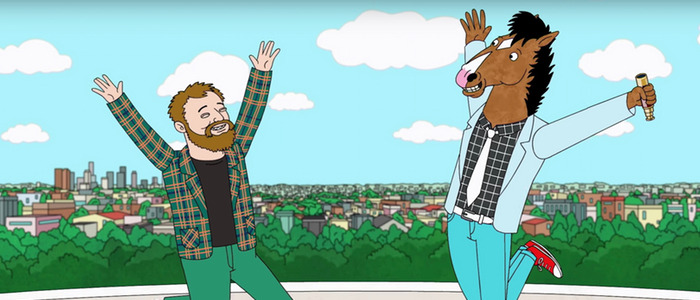 In an unprecedented move, Comedy Central has acquired...a Netflix show. The TV channel has  purchased the exclusive "linear television rights" to all current seasons of the Netflix original BoJack Horseman, making it the only place (besides Netflix) to watch the hilarious, depressing animated series. The question is: why, though?
Netflix has forged its own path, giving birth to the binge-watch TV model that seems so normal now, but is still relatively new. Regular TV, or "linear TV", as they're now apparently calling it, is something completely different. But now the worlds of Netflix and linear TV are coming together for BoJack Horseman. Comedy Central has purchased the syndication rights to the BoJack library, marking a sea change for the world of Netflix originals. On the surface, this might seem a bit weird – who wants to watch BoJack Horseman, or any other Netflix original, on "linear" TV with commercial breaks, when they can watch it uninterrupted on Netflix?
But there's behind-the-scenes logic for all of this. As THR reports, this sale "helps further monetize BoJack Horseman amid a climate when many creators have decried Netflix's lack of back-end, which has historically been how top producers get paid for programming. It arrives as the traditional syndication business has been upended as viewers continue to flock to streaming." So there's your answer: money.
This doesn't mean BoJack is leaving Netflix. The show will continue to debut its new seasons on the streaming service. But now, Comedy Central will be able to air the series as well. The network plans to start airing the first season September 26 at 10:30 PM, following the season 22 (good lord) premiere of South Park. There's even a trailer.
BoJack Horseman Comedy Central Trailer
"Comedy Central has a long history of using potent satire to help make sense of trying times, so BoJack Horseman is a perfect fit in our lineup," said Tanya Giles, General Manager, Comedy Central. "We're thrilled to be the first to put BoJack on linear TV, and who better than an animated horse to teach us a thing or two about humanity? Straight from the horse's mouth."
This deal seems to be entirely in the interest of the producers of BoJack, and that's fine. They deserve to get paid for making such a fantastic show. I just still can't get over how weird this seems. I suppose people who don't have Netflix (they must exist, somewhere), but do have Comedy Central, might find this appealing. At last, they can watch one of the best animated shows in decades...with commercials!
One can only assume this is just the beginning of this sort of concept. More Netflix shows will likely follow suit, and start selling their syndication rights to "linear TV" (a phrase everyone is suddenly using now, I guess?).
Meanwhile, BoJack Horseman season 5 will debut on Netflix on September 14, 2018.