'Operation Finale' Trailer: Oscar Isaac Hunts Nazis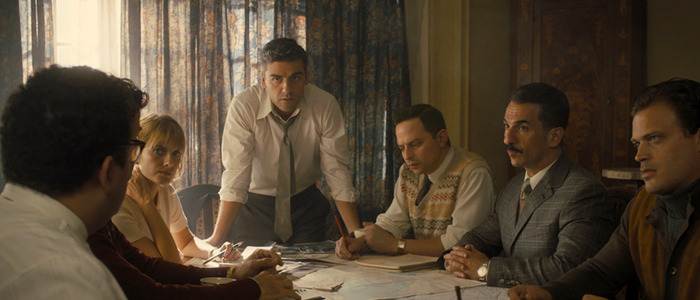 A tense, and final, Operation Finale trailer presents the true story of the Mossad's hunt for, and capture of, Nazi officer Adolf Eichmann. Oscar Isaac and Ben Kingsley star, and based on this trailer, both of them are acting their heads off, to the point that it might end up giving you anxiety. Watch the Operation Finale trailer below.
Operation Finale Trailer
In the 1960s, Israeli agents traveled to Argentina, where many Nazis had fled after World War II. They had one specific target in mind: Adolf Eichmann, the Nazi officer who was in charge of the mass deportation of Jews to concentration camps. The agents captured Eichmann, and then had to deal with the problem of smuggling him out of Argentina to stand trial in Israel.
This true story gets the big screen treatment in Operation Finale, an intense new thriller from director Chris Weitz. Weitz seems like an odd fit for this subject matter – his previous directing credits include Twilight Saga: New Moon, The Golden Compass and the first American Pie film. He also co-wrote Rogue One: A Star Wars Story. While those credits might not suggest a film of this nature, this trailer looks promising.
At the very least, Operation Finale is going to be a showcase for Oscar Isaac, playing Mossad agent Peter Malkin, and Ben Kingsley, playing Eichmann. The subject matter, and the performances, suggest the type of movie studios love to push towards the end of the year for awards season. But Operation Finale is arriving at the tail-end of summer. Make of that what you will.
Operation Finale also stars Lior Raz, Melanie Laurent, Nick Kroll, Joe Alwyn, Haley Lu Richardson, Michael Aronov, Ohad Knoller, Greg Hill, Torben Liebrecht, Mike Hernandez, Greta Scacchi and Pêpê Rapazote, with a script from first-time screenwriter Matthew Orton.Operation Finale opens on August 29, 2018.
Metro Goldwyn Mayer Pictures' razor-sharp thriller, Operation Finale, brings to life one of the most daring covert operations in modern history. Starring Academy Award winner Sir Ben Kingsley (Gandhi, Schindler's List) and Golden Globe winner Oscar Isaac (Star Wars: The Last Jedi, Ex Machina), the film vividly captures the ingenious and brilliantly executed mission to capture Adolf Eichmann, one of the chief architects of the Holocaust. Fifteen years after the end of World War II, acting on irrefutable evidence, a top-secret team of Israeli agents travel to Argentina where Eichmann (Kingsley) has been in hiding together with his family under an alias Ricardo Klement and execute an extremely dangerous abduction. In attempting to sneak him out of Argentina to stand trial in Israel while being pursued by the country's right-wing forces, agent Peter Malkin (Isaac) is forced to engage Eichmann in an intense and gripping game of cat-and-mouse with life-and-death stakes.