Hong Kong Disneyland Reveals Ant-Man Ride Title, Film's Stars To Reprise Roles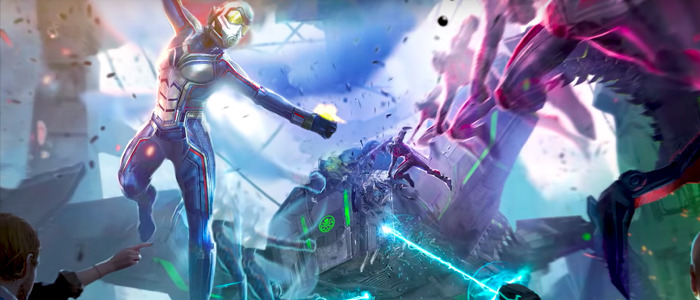 The Walt Disney Company is used to dealing with stunning successes, but so far, the Hong Kong Disneyland theme park has been something of a disappointment. The park's attendance numbers aren't as high as Disney execs would like, so in order to give the park a slight boost, they're turning to some superheroes to help save the day.
Hong Kong Disneyland's Tomorrowland section is being transformed into a mini Marvel land with attractions based on the cinematic versions of Marvel comics characters. Now we have a new look at an Ant-Man ride that will feature stars Paul Rudd and Evangeline Lilly. Find out the name of the new attraction below, and watch a quick teaser with a few pieces of concept art and interviews with the stars.
Ant-Man Ride Teaser
Ant-Man and the Wasp: Nano Battle! is being called "the next step in the resort's multi-year expansion," which is set to be complete by 2023. From what we can tell, Nano Battle! is a re-themed version of Buzz Lightyear's Astro Blasters, a fun indoor dark ride that transports guests from room to room. Blasters are attached to the vehicles, so guests can shoot at digital creations on screens and compete with those in their vehicles for the highest score. The total point values are added up and displayed at the end of the ride.
Here's the description of the ride, straight from Marvel.com:
When a routine trip to the S.H.I.E.L.D. Science and Technology Pavilion at Stark Expo takes an unexpected turn, guests join forces with Ant-Man and The Wasp in S.H.I.E.L.D.'s state-of-the-art vehicle to fight against Arnim Zola and his army of Hydra swarm-bots in a heroic battle. Paul Rudd and Evangeline Lilly, the stars of Marvel Studios' "Ant-Man" films, also appear in this all-new, interactive attraction.
Nano Battle! follows in the footsteps of 2017's Iron Man Experience, which was based on the classic Star Tours ride vehicle. The park, which recently announced financial losses, is clearly leaning on Marvel Studios' success to generate interest and drive traffic. Ant-Man and the Wasp has made $170 million domestically and $189 million internationally since it opened.
Ant-Man and the Wasp: Nano Battle! will arrive at Hong Kong Disneyland sometime in 2019. If you don't want to wait that long to interact with superheroes at an international theme park, you can check out Warner Bros. World in Abu Dhabi, which is open to the public right now.