'Slender Man' Trailer: The Internet Boogeyman Finally Finds His Way To Theaters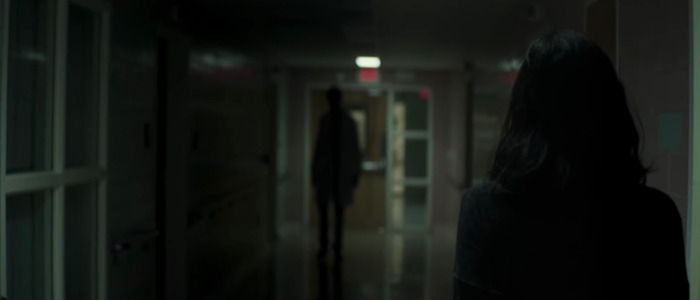 The delayed Slender Man movie appears to finally be making its way to theaters. The film is based on the Creepy Pasta legend of a very tell, very well dressed, very faceless supernatural figure who has a penchant for abducting children. The latest Slender Man trailer is here, and it may or may not give you the heebie jeebies.
Slender Man Trailer
Slender Man was supposed to give people the creeps in May, but Sony pushed the movie back. Since then, there have been rumors that producers were trying to shop the horror flick to other studios. Allegedly, Sony sees the film as a low-budget Blumhouse-type affair, but the producers have higher aspirations. In addition to that, there's been some controversy. While Slender Man is, of course, a fictional character that originated online, he's had some real-world impact. In 2014, two 12-year-old girls stabbed one of their schoolmates 19 times, in an effort to sacrifice her to Slender Man.
"It's absurd they want to make a movie like this," one of the fathers of the two perpetrators, said. "It's popularizing a tragedy is what it's doing. I'm not surprised but in my opinion it's extremely distasteful. All we're doing is extending the pain all three of these families have gone through."
This new Slender Man trailer isn't nearly as effective as the first one, which looked a lot better than I expected it to. That said, I will admit there's a level of artistry on display here – at least in term of the visuals – that most cheap, jump-scare laden horror flicks don't even bother with. In the film, a group of high school girls – you know they're youths because the trailer opens with them conducting a Twitter Poll – go searching for their missing friend, who may or may not have been taken by the mythical online boogeyman.
Sylvan White, who helmed the 2010 comic book movie The Losers and a whole bunch of TV, including Sleepy Hollow and The Following, directs this big screen take on the meme-monster, with a script from David Birke, who penned Paul Verhoeven's Elle. Slender Man stars Jaz Sinclair (Paper Towns), Joey King (The Conjuring and Wish Upon), Julia Goldani Telles (Gilmore Girls: A Year in the Life), Annalise Basso (Ouija: Origin of Evil) and Alex Fitzalan.
Will this turn out to be a scary surprise? A film that rises above its subject matter and delivers genuine scares? Or will this be yet another loud-but-empty scream fest? We'll know for sure when Slender Man finally opens on August 10, 2018.
In a small town in Massachusetts, a group of friends perform a ritual in an attempt to debunk the lore of SLENDER MAN. When one of them goes mysteriously missing, they begin to suspect that she is, in fact, HIS latest victim.