'Stoned Alone': Ryan Reynolds Is Developing An R-Rated 'Home Alone' Riff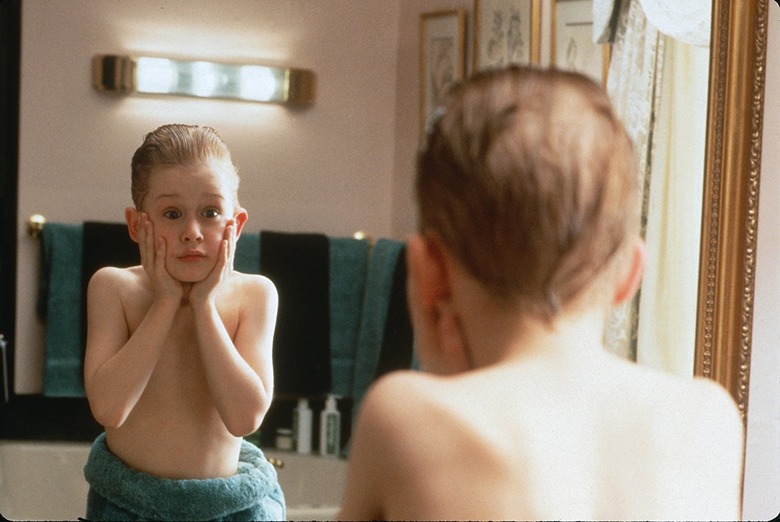 Ryan Reynolds is putting an R-rated spin on one of the most beloved family films of all time. The Deadpool star will apparently be taking his brand of irreverent, adult humor to the classic Christmas film, Home Alone. And get this — it will be a stoner comedy called Stoned Alone. Genius!
Ryan Reynolds is attached to produce and potentially star in Stoned Alone for 20th Century Fox, Deadline reports.
Augustine Frizzell, a rising talent who recently helmed A24's Never Goin' Back, is set to direct a script by Kevin Burrows and Matt Mider, based on an idea by Fox exec Matt Reilly. Stoned Alone hews pretty closely to the 1990 John Hughes classic, which starred Macauley Culkin as an 8-year-old boy who is accidentally left home alone when his entire family leaves for a trip to Paris, leaving him to fend off a pair of klutzy thieves. Except this R-rated version will star an adult man who is stoned out of his mind.
Here's the synopsis per Deadline:
Stoned Alone is reminiscent of that hallowed comedy classic. It centers around a twenty-something weed growing loser who misses the plane for his holiday ski trip. He makes the best of things by getting high. Paranoia sets in and he believes he hears someone break into his house. Turns out thieves have broken in. Fully stoned and fueled by paranoia, he tries to thwart the thieves and defend his castle.
I'm just going to up and say it: this is dumb. Not only is 20th Century Fox remaking a beloved childhood movie, but they're putting an adult spin on it because it's...edgy? Because they came up with a passable pun? Ryan, I know Deadpool is a big hit and people lose their minds whenever you launch into a string of curses and profanity, but that doesn't have to be your brand with every movie. And Fox doesn't have to develop a whole movie based on what was probably an offhand joke from Fox exec Matt Reilly during a rowdy pitch meeting.
But there's one silver lining to this news. Frizzell's Never Goin' Back earned rave reviews at the festival circuit, including one from /Film's Jacob Hall, who in his SXSW review called the female-led stoner comedy "screamingly funny and relentless in its crudeness." Perhaps Frizzell could create a good film out of a dumb premise — like many great stoner comedies. Plus, we could always use more female-directed raunchy comedies.
Yes, remakes are all the rage nowadays, and our beloved classics will likely change in the process. But for now, you can keep the change, ya filthy animals.