Now Stream This: 'Sneakers', 'Bound', 'A Most Violent Year', 'Time After Time', 'Bill And Ted's Bogus Journey' And More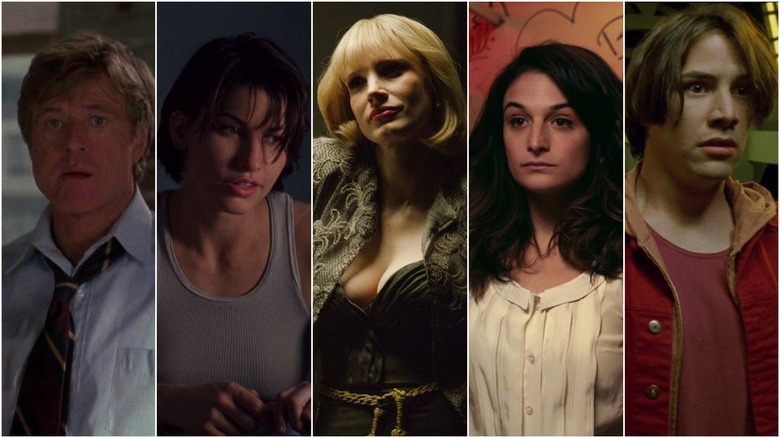 (Welcome to Now Stream This, a column dedicated to the best movies streaming on Netflix, Amazon, Hulu, and every other streaming service out there.) 
Need something to watch? What are you looking for? Perhaps a time travel love story? A paranoid conspiracy theory? A rom-com? A sexy thriller? A breezy espionage comedy? One of the weirdest sequels ever made? All that and more awaits you in the latest edition of Now Stream This. As always, I've combed several streaming services and brought back some great recommendations for you to enjoy.
These are the best movies streaming right now. Let's get streaming.
The Best Movies Streaming Right Now
Now Streaming on Amazon Prime Video
Release Date: 1992Genre: Spy comedyDirector: Phil Alden RobinsonCast: Robert Redford, Dan Aykroyd, Ben Kingsley, Mary McDonnell, River Phoenix, Sidney Poitier and David StrathairnSneakers is a classy, funny, low-stakes espionage flick with one killer cast. This film is like a relic – it's almost impossible to imagine a studio giving a greenlight to a film like this now. Robert Redford stars as a hacker who runs a security company populated by former CIA agents, hackers and other suspicious characters. Redford and his team get drawn into a caper that involves an old "friend" from Redford' past, and things get deadly. Few things in life are as enjoyable as watching Sneakers, the movie equivalent of a person at a party who is just happy to be here. Everyone is dynamite here, particularly David Strathairn, playing a blind man with an extremely apt sense of hearing. And boy oh boy is James Horner's jazzy, pounding-piano based score a hoot.For fans of: Three Days of the Condor, The Parallax View, WarGames, utterly charming movies.
Now Streaming on Hulu
Release Date: 1996Genre: Sexy ThrillerDirector: The WachowskisCast: Jennifer Tilly, Gina Gershon, Joe PantolianoThe Wachowskis made their feature debut with this extremely sexy, extremely clever thriller. There's style to boot – the opening title card alone has more style than most modern movies. And there's twists galore. Gina Gershon is an ex-con working as a plumber in apartment building. There, she catches the eye of Jennifer Tilly, the moll to gangster Joe Pantoliano. Tilly and Pantoliano may technically be together, but it's Gershon that Tilly is drawn to. Soon the women are engaged in a passionate affair, and they come up with a very dangerous idea: they're going to steal a lot of money from Pantoliano and the mob. What could go wrong? Everything. The Wachowskis stage one tense moment after the next and more and more problems present themselves to Gershon and Tilly. Will they get away clean? You'll have to watch to the end. You won't be disappointed.For fans of: In the Cut, High Art, The Postman Always Rings Twice, Joe Pantoliano's extreme Chicago accent.
Now Streaming on FilmStruck
Release Date: 1979Genre: Time Travel Romance ThrillerDirector: Nicholas MeyerCast: Malcolm McDowell, David Warner, and Mary Steenburgen
Here's something you don't see every day: a movie about author H.G. Wells battling Jack the Ripper. Time After Time is a romantic, loopy film about romance, destiny, murder and time travel. What's not to love? Malcolm McDowell plays H.G. Wells, the author of The Time Machine who has just happened to invent a real time machine of his own. David Warner is John Leslie Stevenson, a friend of Wells' who also happens to be Jack the Ripper. When Scotland Yard closes in on Stevenson, he uses Wells' time machine to jump forward in time to 1979. Wells goes after him. Both men find themselves in a strange new world. The stuffy, proper Wells has a very hard time adjusting to the vice-ridden world of the 1970s. The murderous Stevenson, meanwhile, fits right in. Along the way, Wells falls in love with a bank teller played by Mary Steenburgen, in an effortlessly endearing performance. I know this premise sounds absolutely insane, but it works so well. McDowell is exceptional as the gentlemanly Wells, and Warner is menacing yet appealing as the the Ripper. This film was turned into a crappy TV series in 2017. It got cancelled after five episodes. Forget about it and just watch the movie.
For fans of: The Time Machine, Groundhog Day, Back to the Future, getting the Cyndi Lauper song stuck in your head every time you see the title.
Now Streaming On Netflix
Release Date: 2014Genre: Rom-Com (about abortion)Director: Gillian RobespierreCast: Jenny Slate, Jake Lacy, Gaby Hoffmann and David Cross.Obvious Child is the anti-Knocked Up. The film was billed as an "abortion comedy", and that's pretty much exactly what it is. And it works. The film doesn't treat the subject of abortion as a crass joke, but instead approaches it in a very matter-of-fact, refreshingly honest way. Jenny Slate, who is so good here she should've netted an Oscar nom, is a stand-up comic who falls into a one-night-stand with the dopey-but-nice Jake Lacy. The night results in Slate's character getting pregnant, and decides to terminate the pregnancy. At the same time, she also finds herself falling for Lacy's character, and the two stumble into an awkward but cute relationship. On paper, Obvious Child sounds like it shouldn't work. But the script by director Gillian Robespierre is so witty, funny and smart that it all plays out perfectly. The movie is funny, yes, but it also has moments of surprising but effective drama, particularly a late scene in which Slate's character talks with her mother (Polly Draper) about the impending abortion. "We don't make abortion funny," Robespierre said. "We make a character funny and put her through tragic things, and we put her through silly things, and we put her through quiet moments too. Even a funny character gets their quiet moment."For fans of: Landline, Citizen Ruth, The Skeleton Twins, Jenny Slate climbing into a cardboard box.
5. Bill and Ted's Bogus Journey
Now Streaming on Amazon Prime Video...and also FilmStruck
Release Date: 1991Genre: Weird-as-hell sequelDirector: Pete HewittCast: Keanu Reeves, Alex Winter, William Sadler, Joss Ackland, George Carlin
Are you ready for the most controversial opinion of all time? Here it is: Bill and Ted's Bogus Journey is better than Bill and Ted's Excellent Adventure. I know Excellent Adventure is more beloved, and that's fine. But Bogus Journey is an entity unto itself. It is an unapologetically weird, staggering surreal, frequently disturbing sci-fi comedy that dares you to like it. The type of sequel that says, "Remember all that fun stuff from the first film? Well, fuck that. We're doing something crazy instead!" The first film had a goofy slacker energy. Bogus Journey is more like a bad dream, or a bad trip. And I love it. Having conquered time travel, airhead rockers Bill and Ted (Alex Winter and Keanu Reeves) must now conquer death itself. After evil robot clones of themselves (it's a long story) kill them, Bill and Ted end up in the afterlife. They travel to a very disturbing hell, an abstract heaven, and befriend the Grim Reaper himself (a scene-stealing William Sadler). Oh, also, their's a weird, disgusting nude alien. Trust me, all of this is amazing.
For fans of: The Seventh Seal, Gremlins 2, Repo Man, terrifying Easter Bunny puppets.
Now Streaming on FilmStruck
Release Date: 1991Genre: Political thrillerDirector: Oliver StoneCast: Kevin Costner, Kevin Bacon, Tommy Lee Jones, Laurie Metcalf, Gary Oldman, Michael Rooker, Jay O. Sanders, Sissy Spacek, and about 500 other people
As far as historical accuracy go, JFK borders on offensive. Oliver Stone altered or ignored so many facts in tackling the story of the Kennedy assassination that you can't help but think of his approach to this story as disingenuous. But here's the thing: JFK isn't a documentary. It's a narrative film, and as long as you think of it as (primarily) fiction, it's a masterpiece. Stone's film attempts to blow the lid off the truth behind Kennedy's death, and ends up revealing approximately 1000 different conspiracies, some plausible, some laughable. Is Stone even looking for the truth? Not really. He's just trying to make sense of one of the most tragic events in American history. Kevin Costner is in Frank Capra-hero mode playing District Attorney Jim Garrison, who gets in way over his head when he starts investigating the Kennedy assassination. Stone's film jumps back and forth in time, with flashbacks within flashbacks within flashbacks. "It's a mystery wrapped in an enigma," one character says of the Kennedy assassination, and that description could apply to this film as well. Stone, cinematographer Robert Richardson and a team of editors piece together a film that looks and feels like almost no other movie, with film stocks, aspect ratios and color changing wildly. It can be frenetic and disorienting, but if you're on board with what Stone is doing here, you're in for something remarkable. Just please, remember: almost nothing here is accurate.
For fans of: Nixon, Natural Born Killers, U-Turn, cameos galore.
Now Streaming on Shudder
Release Date: 1987Genre: Horror anthologyDirector: Michael GornickCast: Lois Chiles, George Kennedy, Dorothy Lamour, Tom SaviniCastle Rock hit Hulu this week, and if you're looking for more Stephen King action, here you go. Creepshow 2 is the follow-up to Creepshow (obviously), and while Stephen King's stories still serve as the basis for the film, King himself didn't pen the script. Those duties instead fell to original Creepshow director George A. Romero, and Lucille Fletcher. But Romero didn't return to the direct the sequel. Instead, Michael Gornick took over. Gornick does fine, but let's face it – he's no Romero. So Creepshow will always be superior to Creepshow 2. There, now that we've got that out of the way, I can tell you that Creepshow 2 is still full of creepy, icky fun, just like the first film. This is an anthology, so you get several different stories. One of the most disturbing is The Raft. In that segment, a group of teens head out to a lake and find themselves the victims of a gooey, melty monster. My personal favorite, though, is "The Hitch-hiker", in which a woman runs down a hitchhiker and drives off, only to have his very talkative corpse follow her.For fans of: Creepshow, Tales from the Crypt, Trick 'r Treat, people ripping the skin off their faces.
Now Streaming on Hulu and Amazon Prime Video
Release Date: 1985Genre: Amish crime thrillerDirector: Peter WeirCast: Harrison Ford, Kelly McGillis, Lukas Haas, Danny Glover, Patti LuPone
We take Harrison Ford for granted as an actor. The gruff, seemingly miserable Ford has spent a good chunk of his career playing the same characters, and I feel like this causes some people to classify him as "one note." But Ford does have range! And one of his very best performances is in 1985's Witness, in which the actor isn't gruff or miserable. Instead, he's very charming. When he's not killing people. Ford plays a cop from Philadelphia who gets assigned to a case in which a young Amish boy (Lukas Haas) witnessed a murder. It turns out the murderers are crooked cops, and Ford is badly injured. In order to hide him from the corrupt, murderous cops, Haas' mother (Kelly McGillis) takes Ford back to their Amish community to hide-out. There, Ford is an outcast at first, but he slowly begins to fit in, while also striking up a romance with McGillis' character. One of director Weir's greatest tricks in this film is that it starts off seeming like it's going to be a gritty crime thriller, only to turn into a reflective, romantic drama in which there are wide shots of Ford standing in wheat fields and rolling up his sleeves. And just when you settle into the film's calm, tranquil style, things turn suddenly, and shockingly, violent again. And gosh darn it, Ford is phenomenal here, bringing a vulnerability that he doesn't often display in other parts (although he does dabble; see: The Fugitive and Regarding Henry).
For fans of: Days of Heaven, The Truman Show, The Fugitive, Harrison Ford in a straw hat.
Now Streaming on Netflix
Release Date: 2014Genre: Crime dramaDirector: J. C. ChandorCast: Oscar Isaac, Jessica Chastain, David Oyelowo, Alessandro Nivola, Albert BrooksA Most Violent Year didn't make much a splash when it arrived in 2014, which is really weird. Because A) the movie is fantastic; B) it stars Oscar Isaac and Jessica Chastain; and C) it's from indie powerhouse A24. Perhaps this is simply a movie made to be rediscovered at a latter time. Like right now, for instance. The film is set in New York in 1981 – the most violent year in the city's history, thus the title. Oscar Isaac is a businessman trying to make it big with his up-and-coming oil company, but his trucks keep getting hijacked. Isaac's character wants to stay clean and on-the-level, but his wife (Chastain), the daughter of a mob boss, urges him to start fighting back against the people ripping him off. A Most Violent Year is a slow-burn, and the plot is really secondary to the performances. Isaac shines as the conflicted lead character, trying so hard to not give in to an easy life of crime while speaking in a soft, measured tone. The real standout, though, is Chastain, who is tough and scary, commanding the screen with her presence (and very '80s fashion).For fans of: The Godfather, We Own the Night, The Conversation, Oscar Isaac playing Young Al Pacino.
Now Streaming on Shudder
Release Date: 2016Genre: Horror throwbackDirector: Joe BegosCast: Graham Skipper, Lauren Ashley Carter, John Speredakos, Larry Fessenden, Noah Segan, Matt Mercer
Hey, you want some exploding heads? Then The Mind's Eye is for you. Joe Begos' horror throwback is part Scanners, part Firestarter, and part red-and-blue-light show. Graham Skipper and Lauren Ashley Carter play a couple with deadly psychokinetic powers. The two find themselves separated, and kept prisoner at a facility by a super-crazy doctor (John Speredakos) who wants to harvest their powers for his own nefarious uses. That's the basic plot, and it gives Begos a chance to go wild with practical effects and an abundance (perhaps an overabundance) 0f style. Carter knocks this one out of the park as a long-suffering, very dangerous telepath; she's tragic, manic and believable, even as she's blowing up people's heads with her thoughts. Look for bonus appearances from Larry Fessenden and Noah Segan, both of whom are contractually obligated to appear in every single movie like this.
For fans of: Scanners, Firestarter, The Guest, synth-heavy scores.