'Old Guard' Comic Book Movie From Gina Prince-Bythewood Coming Before 'Silver & Black'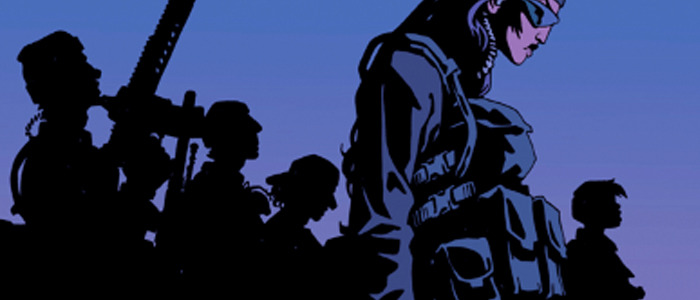 With the future of Sony's comic book movie Silver & Black is currently up in the air, director Gina Prince-Bythewood is looking to helm a different comic book adaptation for a different studio. New reports indicate that Prince-Bythewood (Beyond the Lights, Love and Basketball) has signed on to direct The Old Guard, a movie version of writer Greg Rucka and artist Leandro Fernandez's comic about a batch of immortal soldiers.
Learn more about the Old Guard movie below.
In early June, Sony Pictures took Silver & Black off of its release calendar. That film, featuring female Marvel Comics characters like Silver Sable (a mercenary) and Black Cat (a thief), was going to be the next entry in Sony's own Marvel universe separate from the films of the Marvel Cinematic Universe, and it was originally set to hit theaters in February of 2019. But now that the studio seems unsure about what to do with it, Prince-Bythewood isn't just going to wait around.
Omega Underground and THR report that the director is now attached to The Old Guard for Skydance Pictures, and filming could begin this fall for a 2019 release. Here's the official synopsis from Image Comics:
[The Old Guard is] the story of old soldiers who never die...and yet cannot seem to fade away. Trapped in an immortality without explanation, Andromache of Scythia — "Andy" — and her comrades ply their trade for those who can find — and afford — their services. But in the 21st century, immortality is a hard secret to keep, and when you live long enough, you learn that there are many fates worse than death.
The film will follow this group of immortal soldiers, weary from years of working as hired mercenaries, "when they discover the existence of a new immortal, a black woman serving in the Marines, at the same time as a nefarious organization captures their undying actions on camera."
Prince-Bythewood, who recently stepped into the superhero world to direct the Cloak & Dagger pilot for Freeform, is still attached to direct Silver & Black, though if The Old Guard does indeed jump ahead of it on the production timeline, it'll probably be a couple of years until we see Silver & Black in theaters. I'm not surprised that Sony has pumped the brakes on it, considering the tepid response to all of the Venom marketing thus far. If Venom goes down in flames at the box office, I wouldn't be surprised to see Silver & Black abandoned altogether.