Disney's Live-Action 'Lady And The Tramp' Remake Cast Adds Justin Theroux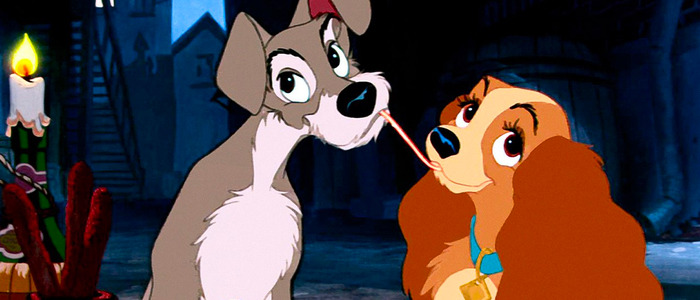 Disney is still making that live-action Lady and the Tramp remake, and they've finally announced the first cast members: Justin Theroux will voice the Tramp himself, while Ashley Jensen will provide the voice of Scottish Terrier Jackie (named Jock in the original animated film). Unlike other recent live-action Disney remakes, Lady and the Tramp is being groomed for Disney's upcoming streaming service.
Update: Since yesterday's casting news, word has broke that Justin Theroux has joined the cast as well. Collider reports the Leftovers actor will provide the voice of the Tramp himself.  The original story continues below.Deadline has the news about Jensen's casting. I'll confess to being entirely unfamiliar with her work – Jensen has provided voice work for How to Train Your Dragon and Sherlock Gnomes. She's also appeared in The Lobster and the HBO series Extras. The Lego Ninjago Movie director Charlie Bean will helm the live-action/CGI reboot. Here's the original film's synopsis:
This Disney animated classic follows a pampered cocker spaniel named Lady whose comfortable life slips away once her owners have a baby. When, after some tense circumstances, Lady finds herself on the loose and out on the street, she is befriended and protected by the tough stray mut

t Tramp. A romance begins to blossom between the two dogs, but their many differences, along with more drama at Lady's household, threaten to keep them apart.
Also, at some point, they eat spaghetti. Disney has been steadily remaking their animated classics into live-action films. They previously adapted Alice in Wonderland, Cinderella, The Jungle Book and Beauty and the Beast. There was also Maleficent, which wasn't so much a live-action remake of Sleeping Beauty as it was a re-telling. Coming up, Disney has live-action remakes of The Lion King, Peter Pan, Dumbo, Aladdin, Pinocchio, and The Sword in the Stone. There's also Christopher Robin, which is a live-action sequel to Winnie the Pooh.
I understand why Disney is doing this – money. But some of these remakes seem questionable. A live-action Lion King feels pointless, since the film is going to feature 100% digitally created animals and environments – which means it's just another animated version again. The same goes for Lady and the Tramp – that story focuses on the animal characters, not the humans. So to just remake it with CGI instead of classic animation feels a bit silly. But hey, what do I know.
While many of these live-action remakes are headed for the big screen, Lady and the Tramp is being made to debut on Disney's still-unnamed streaming service. The service will be Disney's big push-back against Netflix, and will feature new original content from Disney, Pixar, Marvel and Lucasfilm, which means pretty much everyone is going to subscribe to it.
Lady and the Tramp is expected to arrive in 2019, which is also when Disney's streaming service launches.