Chris Hardwick Will Return To AMC For 'Talking Dead'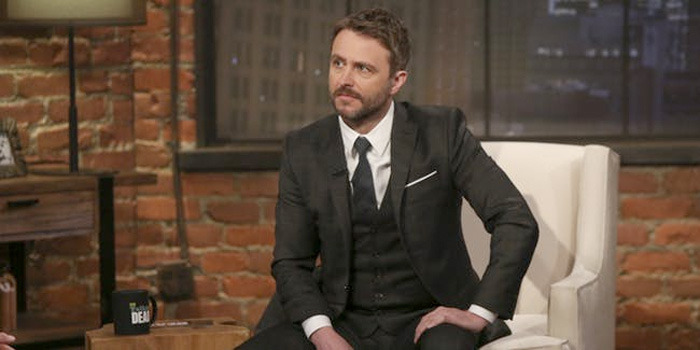 AMC has officially announced that Chris Hardwick is coming back to the network to host Talking Dead, the popular after-show of AMC's zombie series The Walking Dead. The network conducted an internal investigation of Hardwick's alleged sexual and mental abuse toward his ex-girlfriend Chloe Dykstra, and decided that they're ready to put him back on the air beginning August 12.
In June, Chloe Dykstra wrote a detailed and disturbing essay laying out Hardwick's pattern of emotional and sexual abuse during their three-year relationship. She allegedly had to keep her schedule clear for him, could not have any close male friends, and could not speak in public places. According to Dykstra, Hardwick regularly sexually assaulted her, and mentally abused her to the point where she often acted out of fear of how he might react.
When these allegations came to light, Hardwick was pulled from a stand-up comedy booking at a festival, Nerdist (the company he founded) removed any mention of his name from their site, and AMC pulled the second season of Talking with Chris Hardwick from the air. Frequent Talking Dead guest Yvette Nicole Brown (Community) was announced as an interim host for a Walking Dead season 9 preview special on August 5 and an August 12 edition of the show after Fear the Walking Dead has its midseason premiere. Hardwick also dropped out of moderating panels at this year's San Diego Comic-Con.
But according to Entertainment Weekly, AMC conducted their own internal investigation into Hardwick's behavior and decided to put him back on the air. Here's the official statement on the matter:
"Following a comprehensive assessment by AMC, working with Ivy Kagan Bierman of the firm Loeb & Loeb, who has considerable experience in this area, Chris Hardwick will return to AMC as the host of Talking Deadand Talking with Chris Hardwick. We take these matters very seriously and given the information available to us after a very careful review, including interviews with numerous individuals, we believe returning Chris to work is the appropriate step."
Brown is set to host the preview special on August 5, but she will now become a guest on the August 12 episode. We don't know when Talking with Chris Hardwick will return to AMC, but it seems like it's only a matter of time before those episodes (many of which are already completed) will hit the airwaves.
I'll come right out and say it: this is a very bad look for AMC. There is absolutely no reason why Dykstra would invent these details out of thin air – even in the midst of the #MeToo movement, women are too often shunned for speaking out against powerful men, and something like this would have made her no friends in her field. The default mode should be set to "believe women." But for me, the most depressing thing about this news is that maybe AMC does believe Dykstra's account of what happened, and they simply don't have any trouble working with someone who does the things Hardwick is being accused of doing. Since Disney and Warner Bros. don't have any problem working with Johnny Depp, maybe I shouldn't be surprised.