'Flight Of The Conchords' Teaser Announces Live Special Coming To HBO In October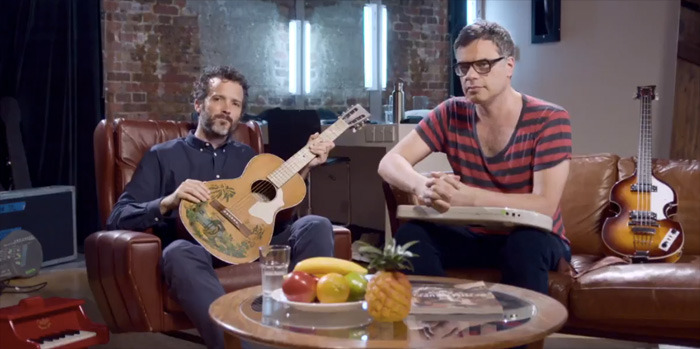 It's finally business time again.
You might remember back in January when news broke that Flight of the Conchords would be coming back to HBO. The titular New Zealand folk music and comedy duo portrayed by Jemaine Clement and Bret McKenzie have been on tour, and part of that tour was going to include a live concert special that would air on the cable network in May. However, the tour was postponed a bit when McKenzie sustained a hand injury, so the special was pushed back too. But now everything is on schedule, and HBO has announced the live special is coming in October with the perfect teaser.
Flight of the Conchords HBO Special Teaser
They came. They saw. They conchord. #FOTC is returning for an all-new special, October 6 on #HBO. pic.twitter.com/iF1MKOycXL

— HBO (@HBO) July 25, 2018
The teaser is pretty straightforward, with McKenzie and Clement announcing the special's arrival on October 6 this fall. It doesn't really give us an idea what to expect as far as content is concerned. Since it's a live concert special, I'm hoping it will feature a blend of performances from the actual concert from across the pond and some recorded sketches. After all, we love Bret and Jemaine, but surely we need to see Rhys Darby back as band manager Murray Hewitt, and maybe even Kristen Schaal as stalker fan Mel, Arj Barker as Dave and Eugene Mirman as, well, Eugene.
The big question is how this live special will pick up after the end of Flight of the Conchords. The second and final season took the duo back to their home in New Zealand, so will they still be there? Or will they be heading back to the United States? Or maybe they'll actually be in London? I suppose it depends on whether this live concert special actually has any narrative to it that would continue the story of the characters on the show.
It's been nearly 10 years since Flight of the Conchords concluded its hilarious but short two-season run on HBO. As you can see, Clement and McKenzie have a little gray in their hair now, showing that time has passed. But the two aren't missing a beat when it comes to their comedic timing and awkward banter, and I can't wait to see what this live special from the London Apollo brings to the table.