Elusive Scamp 'Detective Pikachu' Has Left Universal For Warner Bros.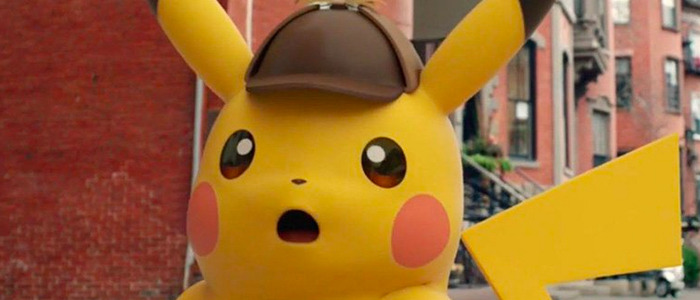 The very-elusive crime solver known as Detective Pikachu has decided to move out of his home at Universal and set up shop at Warner Bros. instead. The film, which is 100% real, we swear, features Ryan Reynolds as Detective Pikachu, a Pokemon who solves mysteries and wears a Sherlock Holmes hat, or some such silly nonsense.
The Hollywood Reporter broke the news that Detective Pikachu was moving from Universal to Warner Bros. Legendary Pictures is producing the pic, and Warners will distribute. This is all a sign that Legendary is going to move its distribution deal back to WB. Legendary parted ways with Warner Bros in 2013 and moved over to Universal, but apparently the deal hasn't been as good as Legendary had hoped. Legendary's deal expires with Universal at the end of 2018, and now it's all but certain they won't be re-upping. Per THR:
The Universal-Legendary relationship had sputtered over the past year, culminating with Legendary's Dwayne Johnson starrer Skyscraper, which sources say will ultimately be a money loser. Legendary also has put up large chunks of the budget for most of the films in Universal's slate over the past four years, including summer hit Jurassic World: Fallen Kingdom, which has earned $1.2 billion to date. Legendary has a stake in BlacKkKlansman, a film from Universal's Focus Features label. That would mark its final film with Universal.
Even though Detective Pikachu has a new distributor, the film is expected to keep its May 10, 2019 release date. In the grand scheme of things, this movie doesn't mean much for the casual moviegoer. The question is, does the casual moviegoer even want to see a Detective Pikachu movie? Pokemon is definitely a familiar brand, but this isn't your standard Pokemon adaptation. Instead, the film features Ryan Reynolds as the voice of a talking Pikachu. The film also stars Suki Waterhouse, Justice Smith and Ken Watanabe. Reynolds can draw a crowd with Deadpool and The Hitman's Bodyguard (somehow!), but he's not technically in the film, physically. Only his voice. Will that be enough to draw in a crowd? Or will the strangeness of this whole project make it impossible to resist?
As Forbes points out, the film was given a greenlight two summers ago when the mobile game Pokemon GO was turning into a worldwide phenomenon. At the time, it made sense to jump onto a Pokemon-themed film. Now, however, things might have changed. People still play Pokemon GO, but it's not nearly as prevalent in the mainstream as it was back then.
But perhaps that won't matter in the end. Even if Detective Pikachu performs poorly domestically, there's always a chance it'll recoup its costs overseas. At least, that's what Legendary, and now Warner Bros., are hoping.