The 'Deadwood' Movie Is Finally, Officially Happening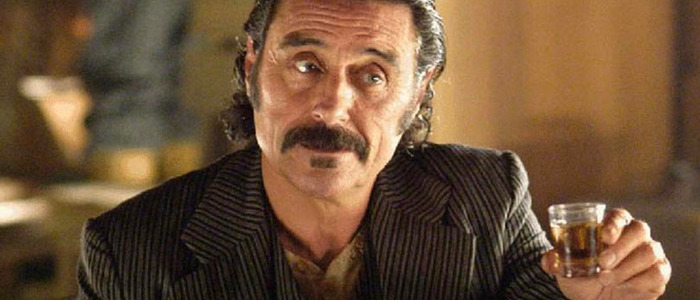 The Deadwood movie has gone through fits and starts for over 10 years. Now, it's finally happening. HBO has officially given the greenlight to the film revival of the Western series that ran from from 2004 to 2006. Tell your god to ready for blood.
I want to temper my excitement here, because a part of me won't believe the Deadwood movie is real until I'm watching it. But during today's TCA summer press tour, HBO Programming president Casey Bloys confirmed the long-awaited Deadwood movie was finally, officially happening. "All of these people worked hard to get this together," Bloys said (via Variety). "It's been a logistics nightmare getting all the cast members' schedules together but we are there. It is greenlit."
Bloys added:
"I wanted a script that would stand on its own ... I'm happy to say that David [Milch] totally delivered on that. It's a terrific script."
Deadwood was one of HBO's best shows – a dirty, violent, Shakespearian Western that ran from 2004 to 2006. Despite critically acclaim, the ratings just weren't quite there, and HBO pulled the plug after three seasons. At the time of the cancellation, creator David Milch said he hoped to wrap-up any lingering storylines with two movies. But those movies never happened. Then, in 2017, word broke that one Deadwood film would probably be happening. The script was ready, the cast was ready to sign on, and all seemed right in the world. Then, more delay. Now, it's happening. For real. We swear.
Just the other day, Robin Weigert, who played the constantly intoxicated Calamity Jane on the series, confirmed as much. "It's safe enough to say it's happening this fall," Weigert told the Los Angeles Times. "There's a set being built and tax incentives to get it done. A lot of [actors] have signed on. There's a 90% chance it'll finally happen." I guess with Bloys; statement, we can now bump that 90% up to 100%.
Earlier this year, the Deadwood movie just received a $4.195 million California tax incentive. As previously reported, "According to the California Film Commission regulations, a film or a TV series generally has to start principal photography within 180 days of being approved for a tax credit in order to receive it, though exceptions are being made in special circumstances. That means that Deadwood should start filming by the beginning of October."
Still, I won't be 100% convinced this is real until I actually sit down and watch it. Back in March of this year, Timothy Olyphant, who played rage-monster Seth Bullock on the series, was right there with me. The actor said, and I quote: "There's no fucking way it will ever happen." Olyphant went on to add:
"I am hopeful. I mean I'm ... I'm... I'm a huge fan of David Milch. The man means the world to me. It's one of the most amazing creative experiences I've ever been able to be apart of, and I'd love to be ... you know when you do these things you really miss the people. It would just be a lovely excuse to get all those people back together..."
After Olyphant's quote made the rounds, HBO released a statement of their own, claiming that despite Olyphant's pessimism, the Deadwood movie really is going to happen:
"We are continuing to try and bring this group of actors together. With varying schedules, it is a challenge, but we are committed to finding a way and making the film."
Olyphant has a role in Quentin Tarantino's Once Upon a Time in Hollywood, which is filming right now. One can only hope and assume he'll have his scenes for that movie wrapped in time to start shooting the Deadwood movie in the fall.