'Our House' Clip: Weird Things Have Been Happening In That House [Exclusive]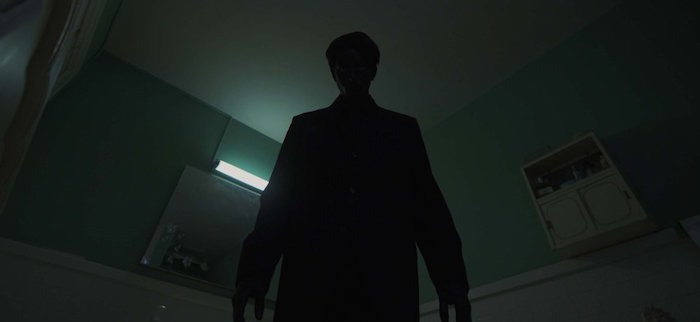 In the Spring of 2016, writer/director Anthony Scott Burns became an overnight genre sensation thanks to the Tribeca premiere and subsequent release of horror anthology Holidays. His "Father's Day" segment pulsated with atmosphere and it wasn't long before fans were demanding Burns be offered his feature-length due – which, given how it's July of 2018, didn't take all that long.
Hot off its Fantasia Film Festival premiere comes Our House, Mr. Burns' remake of Matt Osterman's Ghost From The Machine (part of Fantasia's 2010 programming). It's a ghost story about loss, grief and tampering with portals to afterlife dimensions in a very family haunter kind of tone (screenplay by Nathan Parker). We'll have a full review for you here shortly on /Film – and by we, I mean yours truly – but in the meantime, the people at IFC Midnight have been nice enough to gift y'all a tasty little tease with this exclusive clip.
Our House Clip
As you can see, Me and Earl And The Dying Girl/Kong: Skull Island star Thomas Mann plays a brother/son who must keep his family glued together. Why? It's possible that his soon-to-be-breakthrough invention may have summoned unwanted spirits thanks to signals being projected in the hopes for "WIFI energy." All Ethan (Mann's character) wanted to do was charge your phone without any plugs or stations, and instead he may have allowed something sinister into his home. The price we pay for unlimited battery life. I mean, worth it though. Right?
As scenes press on, Ethan must navigate adolescence while also playing parent and trying to fine-tune his whirling orange prism device. It's certainly nothing you haven't seen before (hints of Insidious franchise material), but execution is in Burns' favor. Performances are tight and ghost evidence is as ominous as ever. There's no manual for how to properly move on when agony still suffocates and movies like Our House are crucial to exploring the varied emotional responses our psyche enacts when dealing with tragedy. The kind of horror that weighs on you.
Mann is joined by a supporting cast that includes Nicola Peltz (Transformers: Age Of Extinction) as crush Hannah, Percy Hynes White (The Gifted) as sibling Matt, Kate Moyer as lil' Becca, and Robert B. Kennedy (bit credits from Suicide Squad to Hollywoodland) as mechanic neighbor Tom.
Our House opens in select theaters and on all VOD platforms on July 27, 2018.
A machine that can bring back dead loved ones seems like a great idea...until you unleash the wrong spirits. When his parents are killed in a car accident, science wiz Ethan (Thomas Mann) must leave behind college and his girlfriend (Nicola Peltz) to care for his younger brother and sister. By day, he juggles the responsibilities of raising two kids; by night, he tinkers in the garage on an invention he hopes will change the world: a machine that can generate wireless electricity. He gets more than he bargained for, however, when the device awakens the dead souls that haunt the house. As Ethan and his siblings attempt to make contact with their parents, a horrifying realization sets in: not all the spirits in their midst may be friendly. This hair-raising science-fiction ghost story is a nightmare journey into a past that refuses to stay dead and buried.