'Christopher Robin' Extended Sneak Peek: Be Prepared To Bawl Your Eyes Out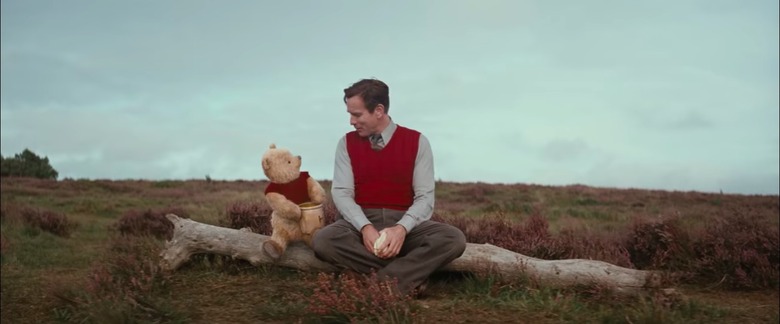 Disney has released a new extended Christopher Robin sneak peek ahead of the film's release next week. Chock full of sweet nostalgia and honeyed interactions between Ewan McGregor's titular Christopher Robin and Winnie the Pooh, the sneak peek expands upon what we've seen in the trailers to give us a fuller picture of the big-screen adventure that the residents of the 100-Acre Wood find themselves on.
Christopher Robin Sneak Peek
The new Christopher Robin sneak peek follows Christopher as he despairs at his workaholic life, and runs into a familiar friend. At first frazzled to find Winnie the Pooh in the middle of London, Christopher journeys back home to save the rest of the residents of the 100-Acre Wood — but they're not done with him just yet.
Christopher Robin had its hooks in us soon after the first utterly charming trailer was released, but every piece of marketing for this movie only makes me want to see it even more. The movie is a fresh spin on the beloved characters created by A.A. Milne and E.H. Shepard, imagining what would happen if Christopher Robin grew up. The result is a film laced with nostalgia and earnestness — in the best way. It's sure to tug at your heartstrings, and maybe even draw out a few tears. If by the time Winnie the Pooh finally says the familiar phrase, "It's always a sunny day when Christopher Robin comes to play," and the floodgates haven't opened, I don't know what will melt your stone-cold heart.Christopher Robin is directed by Marc Forster from a screenplay by Alex Ross Perry and Allison Schroeder.
The film stars McGregor as Christopher Robin, Hayley Atwell as his wife Evelyn, Bronte Carmichael as his daughter Madeline, and Mark Gatiss as Giles Winslow, Robin's boss. The film also features the voices of Jim Cummings as Winnie the Pooh and Tigger, Brad Garrett as Eeyore, Toby Jones as Owl, Nick Mohammed as Piglet, Peter Capaldi as Rabbit, and Sophie Okonedo as Kanga.
Here is the synopsis to Christopher Robin:
In the heartwarming live action adventure Disney's "Christopher Robin," the young boy who shared countless adventures with his band of lovable stuffed animals in the Hundred Acre Wood is now grown up and living in London but he has lost his way. Now it is up to his childhood friends to venture into our world and help Christopher Robin rediscover the joys of family life, the value of friendship and to appreciate the simple pleasures in life once again.
Christopher Robin opens in theaters on August 3, 2018.