'Fosse/Verdon' Lands Sam Rockwell And Michelle Williams, With Lin-Manuel Miranda Producing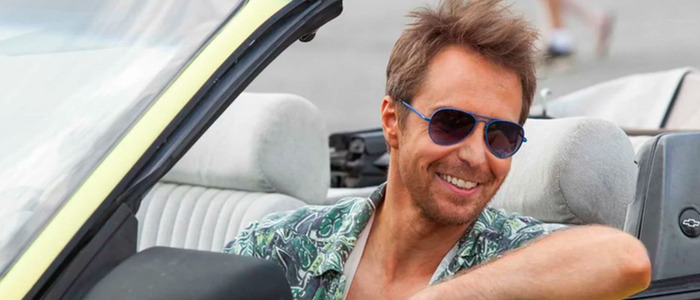 FX has their next original limited series lined-up, and it's attracted quite a roster. Fosse/Verdon will star Sam Rockwell as choreographer and filmmaker Bob Fosse, and Michelle Williams will play Fosse's creative and romantic partner, dancer Gwen Verdon. The series comes from producer Lin-Manuel Miranda (you might have heard of him).
At last: someone is going to let Sam Rockwell dance on screen again. THR reports Rockwell is set to play legendary choreographer and director Bob Fosse in the limited FX series Fosse/Verdon. Fosse was an influential choreographer, and went on to helm some fantastic films, including Cabaret, Lenny, Star 80 the autobiographical All That Jazz. Michelle Williams, meanwhile, will play actress and dancer Gwen Verdon, who appeared in Damn Yankees, New Girl in Town, Redhead and more. Fosse and Verdon met in 1955, and the two would eventually develop a creative and romantic relationship. They married in 1960, but the marriage didn't last.
The limited series will be based on Sam Wasson's biography Fosse, and will tell the story of "of the romantic and creative partnership between Bob Fosse (Rockwell) and Gwen Verdon (Williams). He was a filmmaker and one of theater's most influential choreographers and directors. She was the greatest Broadway dancer of all time. Together, they changed the face of American entertainment — at a perilous cost. The series will feature Fosse's choreography and explore the hidden corners of showbiz, the price of pursuing greatness and the suffering inflicted in the name of art."
Rockwell and Williams are fantastic at what they do, and the prospect of them working together is enough to catch my interest. But wait, there's more! Behind the scenes, Hamilton creator Lin-Manuel Miranda will serve as executive producer, along with Dear Even Hanson book writer Steven Levenson, Hamilton director Thomas Kail, Rockwell, Williams and George Stelzner. Levenson will serve as showrunner, and Kail will direct the pilot episode. Actress, dancer and producer Nicole Fosse, daughter of Fosse and Verdon, will also serve as executive producer. That's a lot of names to keep track of, folks, but these are all very talented people and worth mentioning.
"We are over the moon about this dream team we've assembled for this incredible series," said Nick Grad, FX original programming president. "Tommy, Steven and Lin are the perfect team to tell the story of Bob Fosse and Gwen Verdon, and we're so thrilled to have Sam and Michelle playing these iconic roles."
Kail, Levenson and Miranda released the following joint statement:
"Bob Fosse ignited a revolution in American dance, theater and film. But, in contrast to the well-worn myth of the visionary artist working in solitude, Fosse's work would not have been possible without Gwen Verdon, the woman who helped to mold his style — and make him a star. We are honored to work with the incredible team at FX and Fox 21, and these two extraordinary actors, to tell the story of this remarkable couple, and the complicated, fascinating relationship between them."
This will be the first regular live-action TV series role for Rockwell, and will mark Williams' first TV role since Dawson's Creek. There was a time not too long ago when such acclaimed actors jumping from film to TV signaled a kiss of death. Those times are long gone. FX in particular has done a great job attracting big name talent for their shows – see American Crime Story, American Horror Story and Fargo for just some examples – with great results.
Now watch this video of Fosse and Verdon in Damn Yankees, won't you?