'What They Had' Trailer: Hilary Swank And Michael Shannon Are A Family In Crisis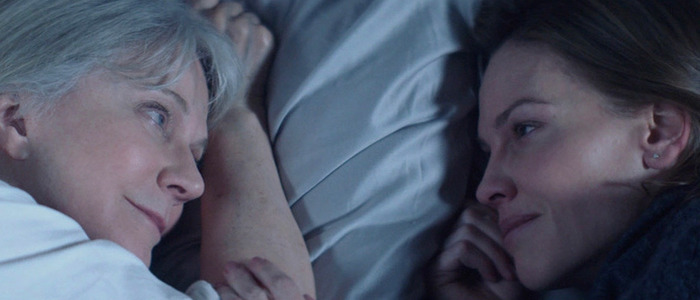 What They Had looks like a film designed to make you weep, and there's nothing wrong with that. Hilary Swank and Michael Shannon star in the drama about a family struggling to deal with their matriarch's Alzheimer's disease. Watch the What They Had trailer below, and then go have yourself a good cry.
What They Had Trailer
I don't quite know what to make of this trailer. The film is a drama about a family coming to terms with their mother's Alzheimer's, but it appears to be treating the disease as...kind of comedic? There's nothing wrong with finding humor in tragedy – it's a great coping mechanism. But the tone here feels a bit wonky. Perhaps the most surprising thing here, though, is the presence of Michel Shannon. Shannon, a phenomenal actor, has spent the last few years playing such intense, scary weirdos that it's a little jarring to see him playing a normal, working-class guy. I'm sure he'll turn in a great performance, though. He always does.
Here's the What They Had synopsis.
From first-time writer/director Elizabeth Chomko, WHAT THEY HAD centers on a family in crisis. Bridget (Hilary Swank) returns home to Chicago at her brother's (Michael Shannon) urging to deal with her ailing mother (Blythe Danner) and her father's (Robert Forster) reluctance to let go of their life together.
I'm ready for the Hilary Swank comeback (not that she ever went away, she just hasn't been very prominent in recent years). And Robert Forster and Blythe Danner are both aces in my book. So maybe this will turn out well. The film already screened at Sundance, and will also screen at TIFF. There are only a handful reviews out of Sundance, but they're all positive. Vulture's review states: "There's raw power in Chomko's writing, but so much scrupulousness and craft that you feel safe when the time comes to weep." The Hollywood Reporter says: "A deluxe ensemble cast and a judicious trickle of minor-key humor elevate debuting writer-director Elizabeth Chomko's intergenerational family drama, What They Had." And Variety adds: "This satisfying drama provides excellent roles for a fine cast, particularly Michael Shannon, Hilary Swank and Robert Forster."
That all sounds pretty good. Still, this trailer isn't quite doing it for me. Perhaps the final film will yield better results.
What They Had, starring Hilary Swank, Michael Shannon, Robert Forster, Taissa Farmiga, with Josh Lucas and Blythe Danner, opens October 12, 2018.