Water Cooler: Walter Mitty, Annihilation, Won't You Be My Neighbor, Mission: Impossible, Rampage, Searching, Blindspotting & More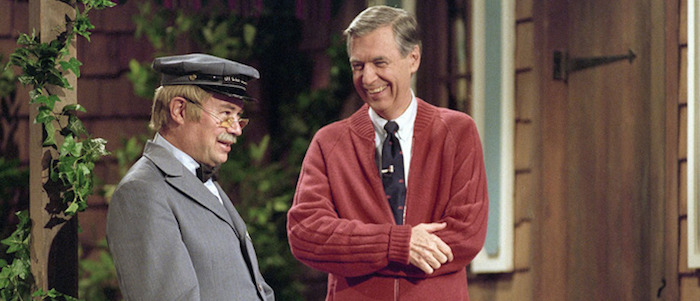 On the July 24, 2018 episode of /Film Daily, /Film editor-in-chief Peter Sciretta is joined by /Film Managing Editor Jacob Hall, Weekend Editor Brad Oman, senior writer Ben Pearson and writers Hoai-Tran Bui and Chris Evangelista we'll discuss what we've been up to at the Water Cooler and answer some listener mail in The Mail Bag.You can subscribe to /Film Daily on iTunes, Google Play, Overcast, Spotify and all the popular podcast apps (here is the RSS URL if you need it).
In The Mail Bag:
Jorge Z from Australia writes in "
I am 42 years old and as you all mentioned, time changes us. Not only that, having kids changes us even more. I don't really know what my opinion would be if I was 42 with no kids. I do know that if I was 28 I would be frustrated about all of this. The point that I am trying to get to is that now having kids, even with the guy apologising, I would be very uncomfortable if I learned that he and my children were in the same room. Then I thought to myself, what about my friend with kids and my friends without kids? What do they think about it? I can tell you the the opinion of my friends without kids varied and most of them said: I don't know what to think of this; maybe it was an overreaction. "
Carrie P writes in "I finished listening to your episode on the firing of James Gunn. I have been a podcast subscriber for a couple of months and enjoy and respect everyone's opinions.  I will play devil's advocate you sometimes do. I have been in education for 14 years and there is a federal push for teaching digital citizenship. We are doing our best to educate our students that the footprint they leave on social media can have a huge effect on their future. A lot of teenagers are fans of Marvel and James Gunn. This might be a good learning experience for them to see how comments they have made in the past can keep them from potential jobs and future successes."
L from Texas writes in: "I just thought I would share some thoughts on your discussion of cleaning up after yourself in a theater.
I worked in a theater for 6 years most of that time I spent as an usher.
At the chain I worked at we were cross trained but each shift we were in a specific area so if you were working an usher shift you were an usher and the same goes for Box Office, Concessions and Booth.  
The chain I worked at had a system for cleaning theaters, on the busy nights and days, which was called the ten step system in which if you have at least five usher working to clean a theater
it would go like this.  1 – Gather all supplies 2- Turn on cleaning lights  3-2 ushers go to the top of the theater and alternate rows picking up any "big trash" your popcorn bags food containers drinks basically anything big enough to pick up and throw in the trash  4 – Clean any wet or stick spills – The big trash users would let one of the other users know that there was a need for a mop and then it would be cleaned 5- once the 2 ushers for step 3 are about 5 rows down 1 or 2 ushers with a large push broom will go down each row and get all the popcorn and other debris from under and in front of the seats  6 – 2 ushers will go down each side and sweep up the piles left by the #4 ushers and also spot check to make sure there is nothing left in the rows 7 – wipe down any seats that need it and return them to the correct position 8 – Vacuum any carpet that needs vacuuming ( we usually just had hand powered vacuums 9 – Empty the trash cans outside the theater  10 – Cleaning lights off and inform the podium the theater is ready to seat I know this was long but all this to say that i
f everyone would just take what ushers would consider "big trash" out with them we could eliminate an entire step here and theaters would get cleaned faster.  I will say that there is a lot of down time for ushers when it is not busy or theaters are not that busy but having been a manager as well I know that there is always something that an usher can be doing to keep the theater clean and organized and the managers can always find something for them to do while they are on the clock. So don't worry about someone losing their job just because you took you popcorn bag out to the trash!"
At The Water Cooler:
What we've been
Doing
:
Chris traveled to see Seals at a La Jolla Cove in San Diego
Jacob visited the
San Diego Zoo
and did some Comic-Con shopping.
Brad canceled
MoviePass
and signed up for
AMC A-List
, crashing at
SlashFilm HQ
.
Hoai-Tran saw the premiere of her friend's play
Heartbreak Hitman
at D.C.'s
Capital Fringe Festival
and celebrated two gi? (death anniversaries) with her family.
Peter went to the Magic Castle for Future Stars of Magic week.
What we've been
Reading
:
Jacob read Lee Child's
Without Fail
as part of his plan to always read Jack Reacher books on planes
What we've been
Watching
:
Ben saw
The Secret Life of Walter Mitty
,
Annihilation
, and
North By Northwest
Peter saw
Won't You Be My Neighbor
and has been watching
Who Is America?
On Showtime
Jacob revisited the first
Mission: Impossible
and
Mission: Impossible 3
Brad saw
Death of Stalin
and
Mission: Impossible – Fallout
Chris saw
Mission: Impossible – Fallout
and
Rampage
Hoai-Tran saw
Searching
and
Blindspotting
, and watched
Mary and the Witch's Flower
on Netflix.
What we've been
Eating
:
Brad and Peter went to the
Taco Bell
from 2032 as part of a
Demolition Man
promotion
Peter ate Bagels with no spread at Comic-Con and it divided the /Film staff.
Jacob explored the San Diego culinary scene: Breakfast Republic, Carnitas Snack Shack, La Puerta, Blind Burro, and Serranos (and also drank a whole bunch of tequila).
Brad had a
Cruffin
from
Kettle Glazed
.
What we've been
Playing
:
Jacob got sucked into
Lumines Remastered
on the Nintendo Switch
Pokemon Go
at Comic-Con where he got nearly 40 Unown, and
Ghostbusters World
Other articles mentioned:
Be Well and Taco Bell: 'Demolition Man' Inspires a Fine Dining Experience from the Future [Comic-Con 2018]
All the other stuff you need to know:You can find more about all the stories we mentioned on today's show at slashfilm.com, and linked inside the show notes./Film Daily is published every weekday, bringing you the most exciting news from the world of movies and television as well as deeper dives into the great features from slashfilm.com.You can subscribe to /Film Daily on iTunes, Google Play, Overcast, Spotify and all the popular podcast apps (RSS).Please feel free to send your feedback, questions, comments and concerns to us at peter@slashfilm.com. Please leave your name and general geographic location in case we mention the e-mail on the air.Please rate and review the podcast on iTunes, tell your friends and spread the word!Thanks to Sam Hume for our logo.