'Shazam!' Reveals More Details About Its Villain And That Tricky 'Captain Marvel' Name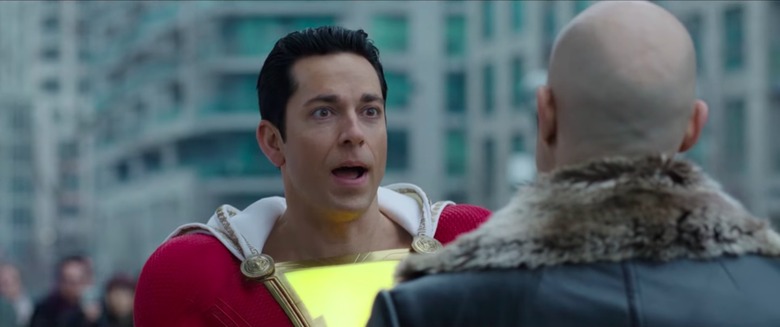 The first Shazam! trailer lit up San Diego Comic-Con like the lightning bolt on the superhero's chest, signaling a bright and fun future for Warner Bros.' DC Extended Universe. And now while fans eagerly await the comic book movie's release in 2019, director David F. Sandberg is feeding into the hype with a few more details about the film's mysterious villain played by Mark Strong, and how they plan to circumvent that tricky situation over the hero's original name.
Who is Dr. Thaddeus Sivana?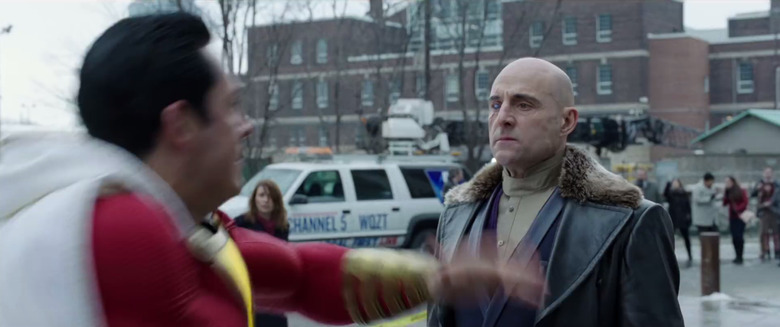 Fans of Shazam may be familiar with the hero's archnemesis: Dr. Thaddeus Sivana. That's who Strong is playing, and who makes a brief appearance in the rollicking trailer released at Comic-Con this weekend. There have been numerous backstories for Dr. Sivana over the years — usually portrayed as a mad scientist bent on world domination — but the film version adds a few extra layers of personal vengeance to the character.
According to Entertainment Weekly, the film's version of Dr. Sivana also encountered the Wizard (Djimon Hounsou) as a kid, but was rejected as a vessel for his powers. Ever since then, Dr. Sivana has been searching for a way to gain the powers that allows Billy Batson (Asher Angel) to turn into the superhero Shazam (Zachary Levi). And of course, there are some latent daddy issues there: Dr. Sivana is doing this to live up to the expectations of his domineering father.
Sandberg expanded on the part that Dr. Sivana will play in Shazam's origin story, as Billy learns to be more than a little kid in a superbody body:
"Mark Strong loves being a bad guy. And it's not just him, really, it's ... something else ... that lent him his powers ... he can do some things that Shazam can't. The danger in some films is the bad guy has the same powers as the good guy. [Sivana] has an extra thing, extra dynamic, that takes care of that...."
That Captain Marvel Confusion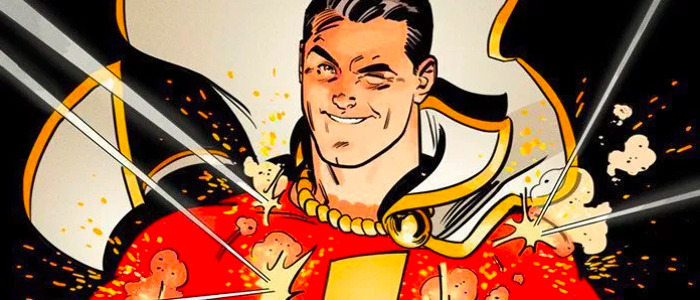 Though the film is titled Shazam! and the character in the comics is mostly referred to as Shazam these days, the giddy kid-turned-superhero once went by a different, and oddly familiar, name. Shazam was introduced to the world by Bill Parker and C. C. Beck for Fawcett Comics in 1940 as Captain Marvel, preceding the Marvel Comics superhero by the same name by 27 years. But in 1967, when Marvel Comics trademarked its own decidedly different Captain Marvel character, DC revived its own Captain Marvel in 1972 by the catchphrase that Billy Batson would yell to transform: "Shazam." When DC did its New 52 relaunch, it changed the character's name from Captain Marvel to Shazam as well. However, many fans still know the character as Captain Marvel, and the name has continued to be used in several animated shows and movies.
So how is the movie going to navigate this whole Captain Marvel/Shazam confusion? With a wink and a joke, of course.
"Let's just say we're going to have a bit of fun with that in the movie," Sandberg said. "But he's basically known as Shazam, which makes sense because of the confusion."
For now, Shazam just has to worry about being confused for a certain music app.