Tarantino Takes Hollywood Back To The '60s With 'Once Upon A Time In Hollywood' Set Video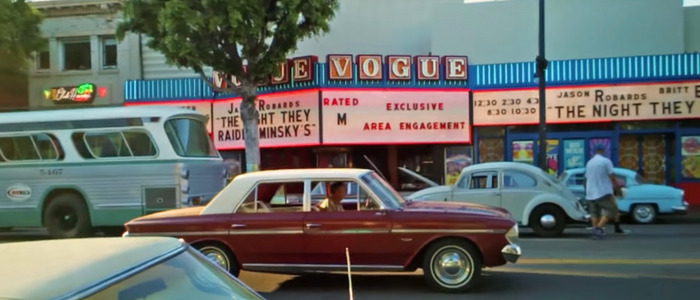 Quentin Tarantino is bringing Hollywood back to the '60s with his new film Once Upon a Time in Hollywood. The movie is set in LA during the summer of 1969, and several set photos have already surfaced showing the transformation of several locations. Now, a Once Upon a Time in Hollywood set video offers us our best look at the set so far. Watch it below.
Once Upon a Time in Hollywood Set Video
This set video is like a trip back in time! With a cellphone! A YouTube user uploaded this glimpse of the Once Upon a Time in Hollywood set, and it's a production designer's dream. Period-appropriate cars (and buses) cruise up and down the street while antiquated items like phone booths (remember them?!) litter the landscape. A movie theater advertises screenings of The Night They Raided Minsky's, one of William Friedkin's earliest films and a huge box office flop (Friedkin talks about the making of this movie extensively in his excellent autobiography The Friedkin Connection).
Once Upon a Time in Hollywood tells several interconnected stories set during the summer of 1969, with Charles Manson and his Manson family lurking in the background. Tarantino has assembled an overwhelming cast for the film, including:
Leonardo DiCaprio as Rick Dalton, a washed-up Western TV star struggling to stay relevant in Hollywood.
Brad Pitt as Cliff Booth, Rick's longtime friend and stunt-double.
Al Pacino as Rick Dalton's agent, Marvin Shwarz.
Margot Robbie as Sharon Tate, the actress who was murdered by members of Charles Manson's cult. She also just happens to be Rick's next door neighbor in the film.
Burt Reynolds as George Spahn, the man who rented his ranch out to Manson. (Learn more about Spahn here.)
Kurt Russell, Tim Roth, and Michael Madsen, all in currently undisclosed supporting roles.
Timothy Olyphant, in an undisclosed role.
Damian Lewis as actor Steve McQueen.
Dakota Fanning as Manson Family disciple Squeaky Fromme, who later tried to assassinate President Gerald Ford.
Nicholas Hammond as actor and director Sam Wanamaker.
Emile Hirsch as Manson Family victim Jay Sebring.
Luke Perry as Scotty Lancer, who may or may not be based on a television actor of the same name.
Clifton Collins Jr. as a character named  Ernesto The Mexican Vaquero.
Keith Jefferson as Land Pirate Keith.
James Marsden in an undisclosed role.
Julia Butters in an undisclosed role.
Scoot McNairy as Business Bob Gilbert.
We've already seen DiCaprio and Pitt in costume as their characters, and I imagine it's only a matter of time before we start catching glimpses of the rest of the cast as well.
Once Upon a Time in Hollywood opens on August 9, 2019.