'Castle Rock' Documentary Takes You Into Stephen King's Haunted Town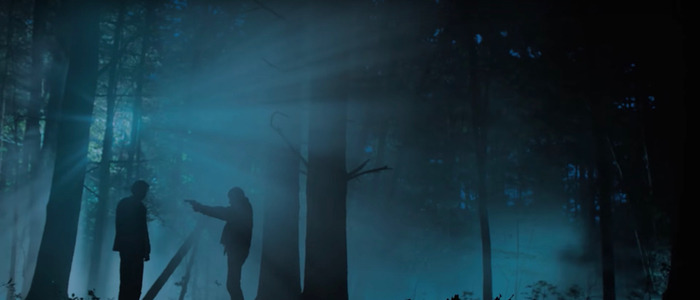 Hulu has pulled out all the stops and made a half-hour Castle Rock documentary to introduce audiences to their new series. The series is set firmly within the world of Stephen King, and features references to and characters from several of his stories and novels. In this documentary, the team behind the series delve into what makes Castle Rock such an interesting (and scary) place to visit.
Castle Rock Documentary
"Imagine a place where horror lives," says host Dave Holmes (who is all-wrong for this, but I digress), "where people live their lives under a dark, mysterious cloud!" Thus kicks-off a lengthy Castle Rock documentary. The doc is in service to the fast-approaching premiere of Hulu's new show, which hopes to cash-in on the Stephen King craze going on right now, and scare audiences in the process.
Of all of King's fictional towns, Castle Rock is the one he's referenced the most. It was the setting of Cujo, The Dead Zone, and Needful Things, and was featured in the short story The Body, which eventually became the film Stand By Me. Executive Producer J.J. Abrams says the show lets them "take the world" King has created and tell their own story without being tied explicitly to any one story or novel.
Creators Dustin Thomason and Sam Shaw point out that the last time King really referenced Castle Rock in one his works it was the late '90s. In crafting the show, there was an effort to explore where the town would be now, in the 21st century. The answer: falling apart. As the show reveals, Castle Rock is essentially dying – businesses aren't exactly itching to set-up shop in a cursed town, which means the local economy has gone to hell.
Even though I think Dave Holmes isn't the best host for this sort of feature, this is a pretty damn impressive, and comprehensive, documentary. It doesn't just focus on the show – it extensively goes into Stephen King's personal history, explaining where King got a lot of his ideas for Castle Rock. A local historian points out that King's former hometown of Durham, Maine underwent a time of economical decline, which gave the town a dying vibe that the writer likely channelled for some of his early stories.
The doc doesn't just focus on Castle Rock. It also delves into Derry, the town from It – a town modeled on Bangor, Maine. Perhaps the best part of the whole doc is when a Bangor resident, who runs "Stephen King Tours of Maine", pronounces the word "starts" with a Maine accent and it comes out as "staaahts", as if he's a character right out of King's novels. But of course, King was drawing on real people and real places when he wrote some of his best work, and that's what makes the work so memorable and relatable. As Abrams says late in this doc, "Stephen King, the magician that he is, creates these worlds and stories and knows how to make you believe."
As a Stephen King fan, I have to admit: this doc is surprisingly informative. It goes a bit deeper than your standard "behind-the-scenes" featurette, and takes its time to explore what makes King – and by extension, Castle Rock – so special.
Castle Rock premieres on July 25, 2018 on Hulu.