Robert De Niro And Frances Conroy In Talks To Join 'Joker' Opposite Joaquin Phoenix [Updated]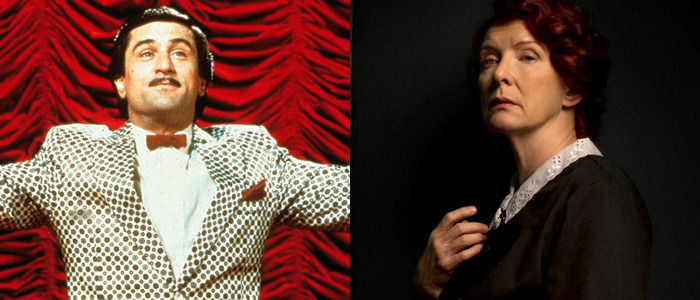 Update: The Wrap reports that Frances Conroy (Six Feet Under, American Horror Story, The Tale) is in talks to play the Joker's mother, Penny, in WB's upcoming movie. No other details are available about her character at this time. Our original article follows.
We knew Warner Bros.' Joker origin movie was going to be taking cues from Martin Scorsese dramas like Taxi Driver and The King of Comedy, but this takes things to an entirely different level.
Robert De Niro, the actor who starred in both of those Scorsese joints, is now in early talks to join the cast of his first comic book movie, opposite Joaquin Phoenix as Gotham City's Clown Prince of Crime and potentially Deadpool 2's Zazie Beetz as a single mom who catches the eye of Batman's greatest foe. Read more about the Robert De Niro Joker news below.
"Are you laughin' at me? There's no one else here," I imagine De Niro's character saying in this movie. Because who gives a s*** about subtlety at this point? The Hollywood Reporter says that if the legendary actor officially signs on, "De Niro would play a talk show host who is somehow instrumental in the Joker's origin." The TV show host angle is another direct nod to The King of Comedy, Martin Scorsese's 1982 film in which De Niro played Rupert Pupkin, a failed comedian who stalks a late-night talk show host to live out his delusional fantasies about becoming a successful stand-up comic.
Previous reports have indicated that Joker, a one-off movie that does not take place in the traditional continuity of DC Comics films like Justice League, Wonder Woman, or Batman v Superman: Dawn of Justice, would be a dark and smaller-budgeted effort from the studio that would be influenced by the aforementioned Scorsese movies. Remember, Scorsese himself is serving as an executive producer of this film; Scott Silver (8 Mile) co-wrote the screenplay with Todd Phillips (The Hangover), who is directing this standalone movie.
Writer Alan Moore and artist Brian Bolland's famous comic The Killing Joke will also serve as a big inspiration for this film, which will portray the Joker as a failed comedian. In their seminal comic, we see flashbacks of the Joker as an engineer who quits his job to become a stand-up comic. But it turns out he's awful at it, and he turns to an act of crime out of desperation to provide for his family. During a heist gone wrong, he falls into a vat of chemicals and transforms into the Joker as we know him today.
I have to assume that casting someone of De Niro's caliber is an attempt from the filmmakers that we should be taking this movie seriously, but frankly, it seems a little too on the nose. Maybe I'm wrong. Maybe De Niro will have some fun playing the Jerry Lewis part from The King of Comedy and turn in one of his best performances in years. Maybe Joaquin Phoenix's turn as the Joker will go down as the best in history. Maybe Todd Phillips will surprise us all and deliver an emotional, gripping character drama that gives us new insight into one of the most famous villains ever conceived.
Joker begins filming this fall in New York and arrives in theaters on October 4, 2019.