'Judge Dredd' TV Show Script Is Finished, First Two Seasons Planned Out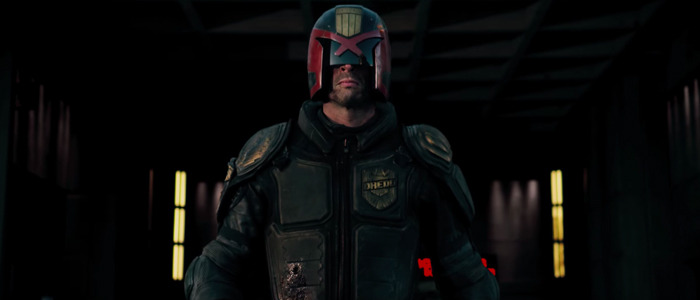 We may never see comic book character Judge Dredd in a film sequel to 2012's underperforming-but-instant-cult-favorite Dredd, but fans are now one step closer to seeing him take the law into his own hands on the small screen. The Judge Dredd TV show, entitled Judge Dredd: Mega-City One, now has a completed pilot script, and the writers have charted out the first two seasons in the event it gets picked up as a series.
Find out which Dredd veteran wrote the script and learn more about the project below.
This weekend at San Diego Comic-Con International, word came out that Rob Williams, who has written stories featuring the Judge Dredd character in the U.K. anthology comic 2000 AD for more than a decade, served as the "creative lead" for the TV pilot script. The Hollywood Reporter says he teamed with a number of other writers to break the stories for the first two seasons of Judge Dredd: Mega-City One, which isn't a Dredd solo show but instead an ensemble piece about the brutal, take-no-prisoners police force in a futuristic megalopolis that takes up a majority of the east coast of the United States.
Word about this series first came out in May of 2017, when IM Global and Rebellion Productions announced that they were teaming up to bring this authoritarian comic to life. Karl Urban spent the entirety of 2012's Dredd under the character's iconic helmet (unlike Sylvester Stallone in the godawful 1995 movie adaptation), and while he's been asked a million times since then if he's interested in returning for a sequel, it turns out that he's had conversations about reprising the role in the TV series. Whether or not that actually happens still remains to be seen, but fans who have wanted to see more of his interpretation of the character have to be pleased that the option at least still appears to be on the table.
Rebellion creative director and CEO Jason Kingsley is on board as an executive producer, while Brian Jenkins will serve as a producer. In a statement, Kingsley said:
"I've read the pilot script by Rob and the team, and got that same thrill I did when I first discovered Judge Dredd. As we drive this project forward I'm always surprised by how much effort goes on behind-the-scenes to bring something like Mega-City One to the screen. I'm very pleased with how the whole project is coming together and looking forward to more exciting announcements in the coming months."
Still no word on directors, actors, or an official timetable for this series, but we'll keep you updated about Judge Dredd: Mega-City One as soon as we hear more. Here's the trailer for Dredd to give you a reminder of what Urban looks like in action as the title character: