'The Dragon Prince' Trailer: The 'Avatar: The Last Airbender' Writer Brings Swords And Sorcery To Netflix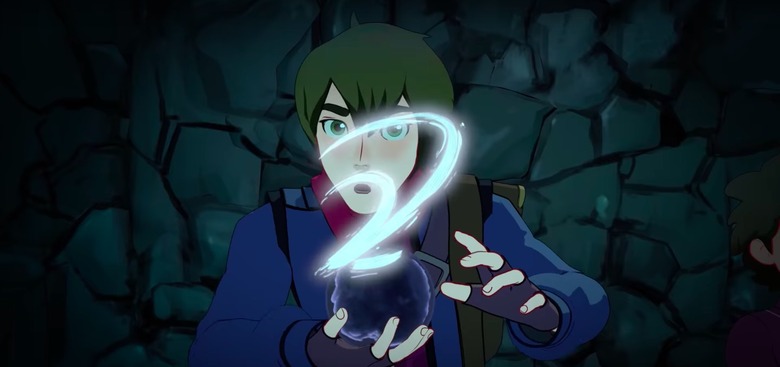 The head writer of Avatar: The Last Airbender teaming up with Netflix to create a fantasy animated series sounds like a match made in heaven. We would follow Aaron Ehasz anywhere — and after the success of Voltron: Legendary Defender, also from The Last Airbender alumni, Netflix seemed like a perfect home for him. Now, we get a first look at Ehasz's action-packed new series in the first The Dragon Prince trailer.
The Dragon Prince Trailer
The first The Dragon Prince trailer comes as a bit of a shock to us Avatar: The Last Airbender fans, who were expecting a series animated in the style of the beloved Nickelodeon series. After all, the reason it was so easy to watch Voltron was because the series, and the characters, were so closely modeled on The Last Airbender and The Legend of Korra. But The Dragon Prince bucks expectations with a 3D animation style — mixed with cel shading and a reduced frame rate to resemble traditional animation — that is both a little jarring and fascinating.
But the series does seem to live up to its high fantasy promise. Set in a world of warring kingdoms, The Dragon Prince follows two princes, Callum (voiced by Jack De Sena) and Ezran (Sasha Rojen), who find themselves on a journey together to bring peace to their lands. And they are united by an unlikely figure: Rayla (Paula Burrows), an Elven assassin who was tasked with killing the princes to keep the lands in perpetual war.
The trailer paints an intriguing picture of the series, which promises to be jam-packed with adventure, battles, and plenty of dragons — though I'm still not quite sure how they play a role just yet. But The Dragon Prince looks like the perfect series for fantasy fans, and for those who are still dearly missing Avatar: The Last Airbender.
Here is the synopsis to The Dragon Prince:
Two human princes forge an unlikely bond with the elfin assassin sent to kill them, embarking on an epic quest to bring peace to their warring lands.
All episodes of The Dragon Prince hit Netflix on September 14, 2018.