'The LEGO Movie 2' Trailer: 'The Second Part' Is Madness To The Max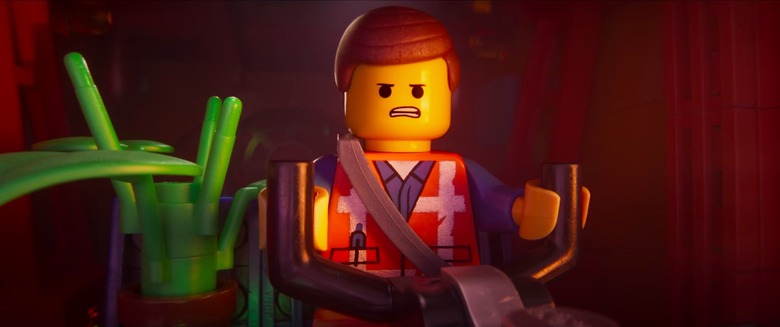 Warner Bros. has debuted a new The LEGO Movie 2: The Second Part trailer upping the ante in the animated sequel the max. (And we're not just talking about all its Mad Max: Fury Road references.) See the action-packed The LEGO Movie 2 trailer below.
The LEGO Movie 2 Trailer
Phil Lord and Chris Miller pulled off a miracle in 2014, transforming what seemed like an empty corporate husk of a cash grab into one of the best animated movies of the decade. The LEGO Movie was an explosion of wit and sheer joy, chronicling the adventures of a stunningly ordinary guy as he gets roped into doing something extraordinary. Now in The LEGO Movie 2: The Second Part, Emmet (Chris Pratt) is as naive as ever, unaware that his world has turned mad. Or rather, turned into Mad Max. Bricksburg has turned into a desert wasteland, but its residents still jump to its defense when they suddenly face a new threat. The LEGO DUPLO invaders attack Bricksburg, and it's up to Emmet, Lucy (Elizabeth Banks), and Batman (Will Arnett) to save Bricksburg once and for all.The LEGO Movie 2 seems like a worthy sequel worth waiting four years for — though the film is technically the fourth entry in this franchise, following last year's The LEGO Batman Movie and The LEGO Ninjago Movie. Though Ninjago was the weakest in the franchise, it was still a pretty darn good movie — putting the LEGO series on a three-movie roll. Let's see if The LEGO Movie 2 maintains that momentum.
Here's the synopsis for The LEGO Movie 2: The Second Part:
The much-anticipated sequel to the critically acclaimed, global box office phenomenon that started it all, "The LEGO® Movie 2: The Second Part," reunites the heroes of Bricksburg in an all new action-packed adventure to save their beloved city. It's been five years since everything was awesome and the citizens are facing a huge new threat: LEGO DUPLO® invaders from outer space, wrecking everything faster than they can rebuild. The battle to defeat them and restore harmony to the LEGO universe will take Emmet, Lucy, Batman and their friends to faraway, unexplored worlds, including a strange galaxy where everything is a musical. It will test their courage, creativity and Master Building skills, and reveal just how special they really are.
The LEGO Movie 2 opens in theaters on February 9, 2019.