'Buffy The Vampire Slayer' Reboot Is Happening With A Black Lead, Joss Whedon Involved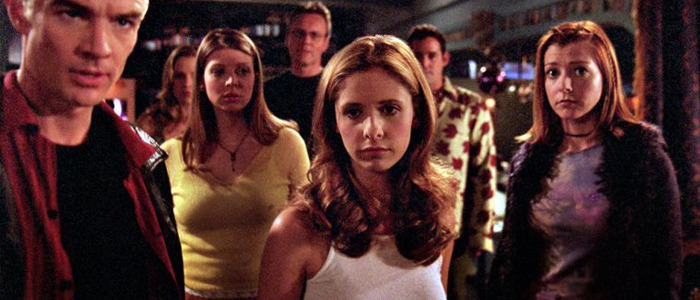 Here's a bit of breaking news, as if everything happening at San Diego Comic-Con weren't enough: after some theoretical rumblings earlier this year, a Buffy the Vampire Slayer reboot is now officially in development. Monica Owusu-Breen (Midnight, Texas) will serve as a writer, executive producer, and the series' showrunner, while Joss Whedon – the mastermind behind the Buffy movie and the long-running original TV show – is also on board as an executive producer.
Plus, this time Buffy is going to be a black woman.
Read more about the new Buffy the Vampire Slayer reboot below.
Deadline reports that a new version of the show (featuring yes, a black female lead), is in development at Fox 21 TV Studios. The show is going to be pitched to networks this summer, and while there's no official script quite yet, the reboot is said to be "be contemporary, building on the mythology of the original."
Here's a quick statement from the producers: "Like our world, it will be richly diverse, and like the original, some aspects of the series could be seen as metaphors for issues facing us all today."
Buffy the Vampire Slayer began life as a 1992 movie before making the jump to the small screen in 1997 with Sarah Michelle Gellar in the lead role. The series, about a high school girl who balanced a normal life with her destiny as a vampire and demon killer, was a massive pop culture phenomenon, turning Gellar into a star and providing a launchpad for writers like Jane Espensen, Marti Noxon, and more who would go on to work on tons of other Hollywood projects over the years. Buffy premiered on The WB in 1997 and concluded on UPN in 2003, becoming so successful in the process that it inspired a spin-off show called Angel (which itself ran for five seasons).
Monica Owusu-Breen, who has worked as a writer/producer on shows like Lost, Alias, and Fringe, will executive produce alongside Whedon and the original series' executive producers Gail Berman, Fran Kazui, and Kaz Kazui. This show will serve as a reunion for Owusu-Breen and Whedon, who previously worked together on Marvel's Agents Of S.H.I.E.L.D.
Whedon just signed a deal to write, direct, and be the showrunner of a new HBO fantasy series called The Nevers, but Deadline says he "will definitely be creatively involved [with the Buffy reboot] and is already working with Owusu-Breen."
Back in 2010, Warner Bros. was developing a new movie version of Buffy, but Whedon was not involved. That project never ended up happening, but there have been more recent whispers about a Buffy reboot on television. "After much deliberation and a lengthy back-and-forth," Deadline says, "everyone involved agreed the time was right contingent on finding the right writer with the right take. The attention focused on Owusu-Breen."
We'll keep you updated on the show's progress as it moves through development.