Frances McDormand Will Provide The Voice Of God In 'Good Omens', Noomi Rapace Joins 'Jack Ryan' [Comic-Con 2018]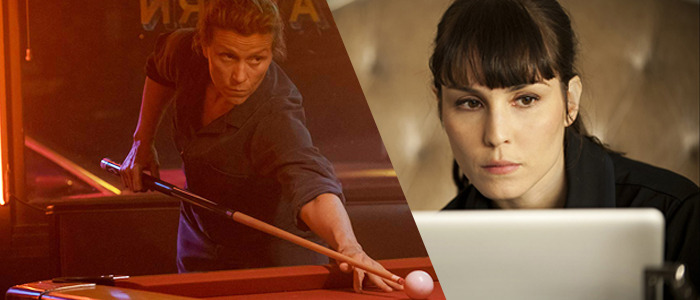 Here's some interesting Amazon casting news from the studio's panel at San Diego Comic-Con International: Frances McDormand, who just won an Oscar for her fiery performance in Three Billboards Outside Ebbing, Missouri, will provide the voice of God in the upcoming adaptation of Neil Gaiman and Terry Pratchett's Good Omens.
Plus, Noomi Rapace (Prometheus) has joined the cast of Jack Ryan, the action-packed Tom Clancy adaptation that has John Krasinski in the lead role.
God is a woman, everyone. At Amazon's Comic-Con 2018 panel (more from that very soon), we learned that Frances McDormand (Fargo, Olive Kitteridge) will join the likes of Morgan Freeman, Graham Chapman, Alanis Morissette, and plenty more as actors who have portrayed the Almighty on the screen. Talk about great casting: McDormand has a wonderful voice. I prefer her in "cuttingly sarcastic" mode, which may be a nice fit for this unconventional story's take on God.
Michael Sheen and David Tennant lead the star-studded adaptation of Gaiman and Pratchett's novel, with Jon Hamm, Nick Offerman, Miranda Richardson, and more filling out the ensemble cast. I haven't read the book myself, but it seems pretty wild. Here's the official synopsis for the adaptation:
The End of the World is coming, which means a fussy Angel and a loose-living Demon who've become overly fond of life on Earth are forced to form an unlikely alliance to stop Armageddon. But they have lost the Antichrist, an 11-year-old boy unaware he's meant to bring upon the end of days, forcing them to embark on an adventure to find him and save the world before it's too late.
Meanwhile, Noomi Rapace has joined Jack Ryan in the role of Harriet "Harry" Baumann, a highly capable, sharply intelligent, and intoxicatingly charming BND agent (she works for Germany's Secret Intelligence). As a series regular, Rapace will cross paths with Krasinski's Jack Ryan as the spy show's action unfolds in South America.
Rapace broke out with her role as Lisbeth Salander in the original The Girl with the Dragon Tattoo movies, and went on to be cast in high-profile films like Sherlock Holmes: A Game of Shadows, Prometheus, and Netflix's fantasy actioner Bright. She's played a number of roles that have given her the chance to show off her physicality, but the bit about her character being "intoxicatingly charming" has me excited to see her work a different set of acting muscles here.
Stay tuned for much more from the Amazon Comic-Con panel very soon.