James Gunn Fired As Director Of 'Guardians Of The Galaxy 3' [Updated]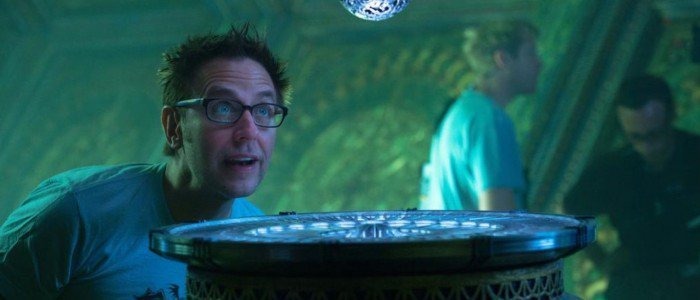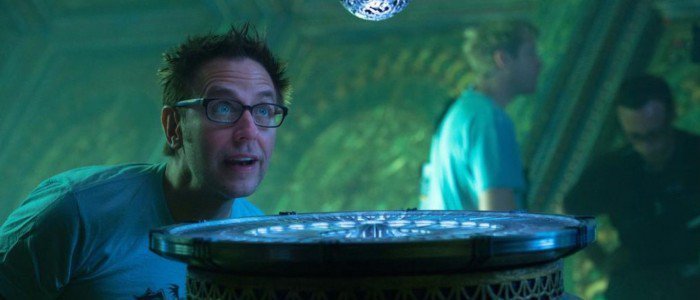 Update #2: Gunn has issued another apology in the wake of his firing. You can read it in full below.Update: Gunn will no longer appear in Hall H at San Diego Comic-Con tonight, as originally planned. Read more below.James Gunn will no longer be directing Guardians of the Galaxy 3. After helming the first two wildly successful Guardians of the Galaxy movies, Marvel has fired Gunn in the wake of the filmmaker's old, polarizing tweets that have resurfaced on the internet.
Following the resurfacing of old tweets in which the director joked about sensitive topics of pedophilia and rape, Marvel has fired James Gunn as the director of Guardians of the Galaxy 3, according to The Hollywood Reporter. Walt Disney Studios chairman Alan Horn said in a statement:
"The offensive attitudes and statements discovered on James' Twitter feed are indefensible and inconsistent with our studio's values, and we have severed our business relationship with him."
Gunn was originally set to participate in Sony's San Diego Comic-Con panel this weekend, but following the reports of his firing, Variety's sources tell them that Gunn will no longer take the stage in Hall H.
Gunn's tweets, which were originally posted between 2009 to 2012, resurfaced after conservative bloggers Mike Cernovich and Jack Posobiec brought them to the web's attention, criticizing the filmmaker's shocking jokes. Virtually all of Gunn's offensive tweets were posted before the filmmaker joined Marvel Studios. Before he shepherded the Guardians of the Galaxy to surprise success in 2014, Gunn had built a reputation as a B-movie horror guru with films like Slither, Dawn of the Dead, and Tromeo and Juliet.
Shortly after the tweets resurfaced, Gunn apologized for his old remarks on Twitter.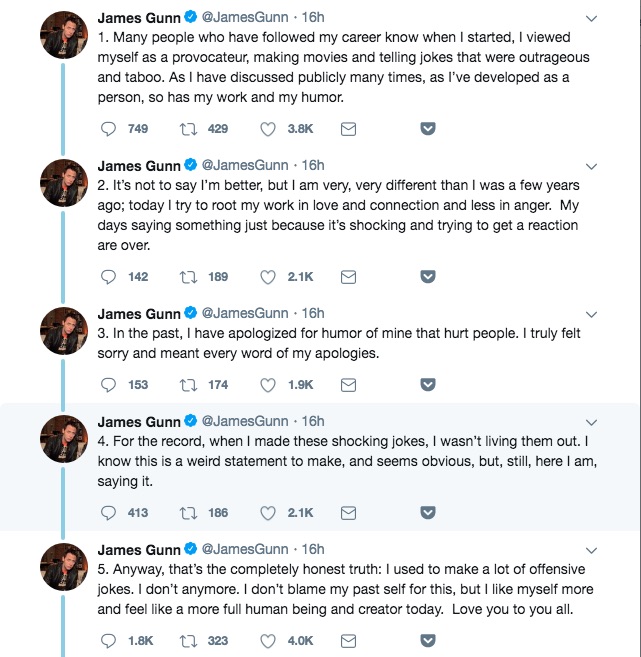 Update: Deadline just published a new apology from the filmmaker, which can be read in its entirety below:
"My words of nearly a decade ago were, at the time, totally failed and unfortunate efforts to be provocative. I have regretted them for many years since — not just because they were stupid, not at all funny, wildly insensitive, and certainly not provocative like I had hoped, but also because they don't reflect the person I am today or have been for some time.
Regardless of how much time has passed, I understand and accept the business decisions taken today. Even these many years later, I take full responsibility for the way I conducted myself then. All I can do now, beyond offering my sincere and heartfelt regret, is to be the best human being I can be: accepting, understanding, committed to equality, and far more thoughtful about my public statements and my obligations to our public discourse. To everyone inside my industry and beyond, I again offer my deepest apologies. Love to all."
Gunn had run into controversy before, in 2012 when a provocative blog post about Batwoman was criticized as homophobic and sexist. But Gunn released a sincere apology for that post as well, saying, "I'm learning all the time. I promise to be more careful with my words in the future." It's likely that Disney would have been aware of Gunn's past controversies and statements, but is only now bowing to pressure following outrage from the far-right blogosphere.
Disney and Marvel have not yet announced who will replace Gunn as the director of Guardians of the Galaxy 3. Gunn had finished writing the script for the third Guardians of the Galaxy film, which was expected to kick off the Marvel Cinematic Universe's cosmic phase. Guardians of the Galaxy 3 was previously set to begin shooting in Atlanta in the fall and arrive in theaters in 2020.