'Fear The Walking Dead' Season 4 Trailer: "It Is Tough Out Here" [Comic-Con 2018]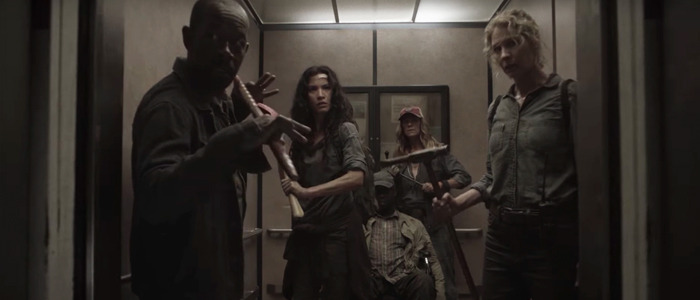 A new Fear the Walking Dead season 4 trailer just debuted in Hall H at San Diego Comic-Con International. But there's good news for fans of the spin-off series who couldn't make it to the convention in person: the trailer is now online for all to see. Check it out below.
Fear The Walking Dead Season 4 Trailer
That's quite a musical choice, isn't it?
This spin-off show was previously led by Kim Dickens, a veteran actress with a hell of a resume that includes appearances in movies and TV shows like Gone Girl, Deadwood, House of Cards, Sons of Anarchy, Lost, and Friday Night Lights. But it seems like a new cast is taking over. Lennie Jones, who previously appeared on The Walking Dead, has made his way over to this series in season 4, where his character Morgan continues to "wrestle with the dangers of losing the people closest to him."
And don't forget about Alycia Debnam-Carey as Alicia, who "has discovered a new confidence and strength, which will affect her relationships with the people closest to her." Stabbing zombies in the face seems to provide a bit of a confidence boost, huh? There seems to be a healthy mixture of fear and action in her performance, and I'm sure fans are looking forward to seeing how her character grows in the episodes to come.
Frank Dillane, Colman Domingo, Danay Garcia, Jenna Elfman, Garret Dillahunt, and Maggie Grace comprise the rest of the ensemble cast.
Here's the season's official synopsis:
In season four, we will see the world of Madison Clark (Kim Dickens) and her family through new eyes — the eyes of Morgan Jones (Lennie James), who is joining the story from the world of The Walking Dead. The characters' immediate pasts mix with an uncertain present of struggle and discovery as they meet new friends, foes and threats. They fight for each other, against each other and against a legion of the dead to somehow build an existence against the crushing pressure of lives coming apart. There will be darkness and light; terror and grace; and the heroic, mercenary and craven, all crashing together toward a new reality for Fear the Walking Dead.
Like its mothership series, Fear the Walking Dead's seasons are split into two eight-episode halves. The back half of season 4 is set to premiere on AMC on August 12, 2018.