'Good Omens' Sneak Peek: David Tennant And Michael Sheen Bring Neil Gaiman's Apocalyptic Comedy To Life [Comic-Con 2018]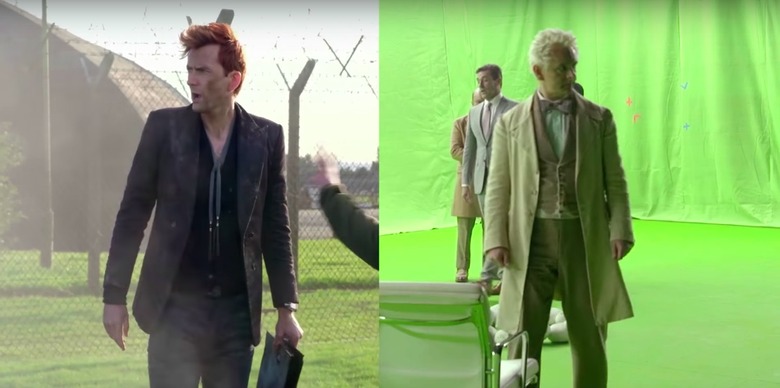 Heaven help us, our first glimpse of Good Omens has arrived. A behind-the-scenes Good Omens sneak peek has been released, giving us a glimpse at the Amazon miniseries starring David Tennant and Michael Sheen. And the series looks as offbeat and weird as the Neil Gaiman and Terry Pratchett 1990 novel that inspired it — and as amazing as Michael Sheen's platinum blonde hair.
Good Omens Sneak Peek
Following the Good Omens panel at San Diego Comic-Con, Amazon has released a behind-the-scenes Good Omens featurette online. The series follows Tennant and Sheen as an unlikely duo: the devil-may-care demon Crowley (Tennant) and an uptight angel Aziraphale (Sheen) who team up to stop the apocalypse. But first they have to find the Antichrist, who they may have accidentally misplaced. Whoops. What follows is a combination of dark and darkly funny events that give a fresh twist on the doomsday prophecies that surround the end of the world.
The miniseries is based on Gaiman and Pratchett's classic 1990 novel of the same name (plus a hilariously long-winded subtitle), and is written by Gaiman, who acts as showrunner for the series — a first for the longtime author and screenwriter. Gaiman was at first reluctant to adapt the book, but received a posthumous blessing from Pratchett to bring the story to the screen after Pratchett's death in March 2015. Good Omens is not the only small-screen adaptation of one of his books that Gaiman has a hand in — Gaiman also executive produces the acclaimed Starz adaptation of American Gods.
Here is the official synopsis for Good Omens:
The End of the World is coming, which means a fussy Angel and a loose-living Demon who've become overly fond of life on Earth are forced to form an unlikely alliance to stop Armageddon. But they have lost the Antichrist, an 11-year-old boy unaware he's meant to bring upon the end of days, forcing them to embark on an adventure to find him and save the world before it's too late.
Jon Hamm also stars in Good Omens as the archangel Gabriel in an expanded role from the book, and Nick Offerman is also confirmed to appear. The cast is rounded out by Frances McDormand, Jack Whitehall, Michael McKean, Miranda Richardson, Adria Arjona, Nina Sosanya, Ned Dennehy, and Ariyon Bakare.Good Omens is set to premiere on Amazon Prime sometime in 2019.