M. Night Shyamalan's 'Glass' Is The Movie That Comic-Con Made Possible [Comic-Con 2018]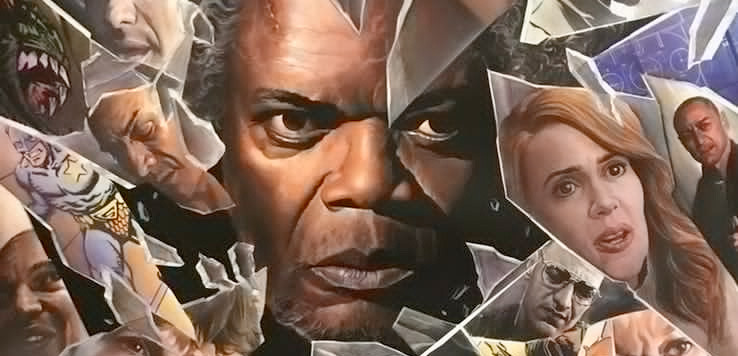 Audiences who remembered M. Night Shyamalan's comic book-inspired thriller Unbreakable from 2000 had their mind blown when the end of the director's 2016 film Split featured a surprise final scene that put the two films in the same universe. Now Shyamalan is returning to that world with Glass, a movie bringing together Bruce Willis, Samuel L. Jackson and James McAvoy together for some kind of revelatory showdown. The first trailer has plenty to reveal, but we have a bit more on the exciting sequel straight from Hall H at San Diego Comic-Con.
M. Night Shyamalan's Glass Comic-Con Panel
The history of Glass starts with disappointment. M. Night Shyamalan recalled how he was disheartened when the mixed reactions to Unbreakable arrived back in 2000. Part of the problem, he thinks, may have been that the time had not yet come for a comic book movie like this. He even recalls how the marketing team said that they couldn't mention comic books or superheroes in promotional materials because it was too fringe. They even referred to those things as being "for people who go to those conventions."
Funnily enough, if it weren't for "those conventions," we might not have gotten Split as we know it today. That's because M. Night Shyamalan met James McAvoy at a Comic-Con party when the director was here screening The Visit for attendees. At the time, McAvoy's hair had barely grown back from playing a bald Professor X in the X-Men franchise, and he had the perfect look to play Kevin Wendell Crumb in Split, a character who was original part of the script for Unbreakable but was too unwieldy for such a grounded story. And the rest is history.
Here's the new poster for Glass that was released at San Diego Comic-Con this week: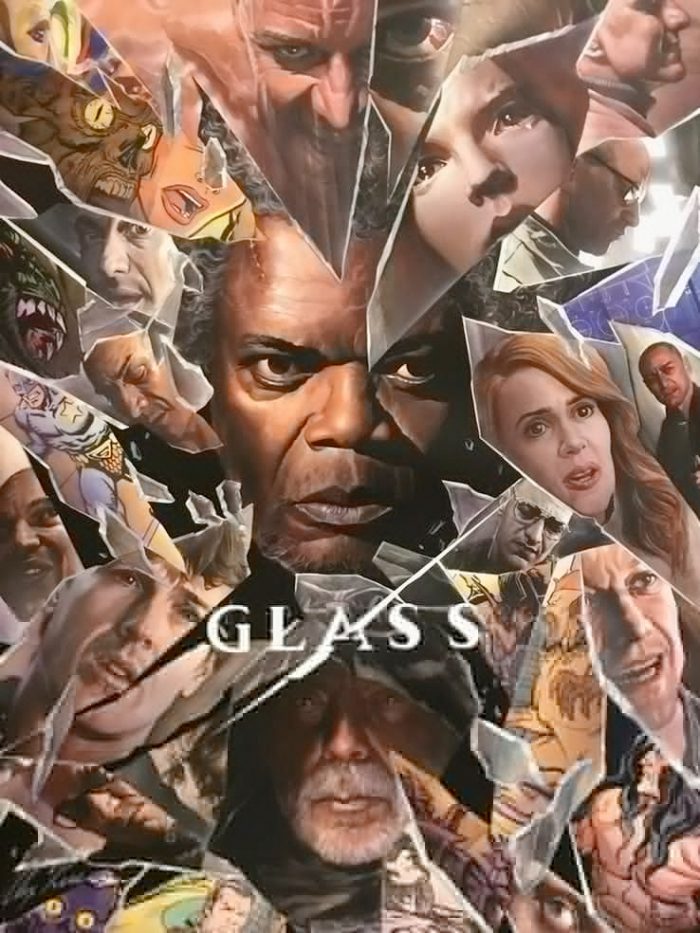 The bridging of Unbreakable and Split is rather unprecedented. That's mostly because it required Universal and Disney to agree to team up by using two different franchises that they each owned and bringing them together. Even more impressive is the fact that Bruce Willis decided to do his little Split cameo in a single afternoon, and he didn't even get paid for it.
But this movie is called Glass, and if you've seen the trailer, we see that there's certainly a focus on how the man they call Mr. Glass sees his destiny. There's the promise of the bad guys teaming up and giving David Dunn a run for his money. Jackson talked about what drew him to reprise the role of Mr. Glass:
"I  just love the complexity of Elijah. I love that he has his mom who understands him and knows who he is. He's an extremely strong character who has this fragile body. He has a belief that's stronger than anything anyone can take from him. And he's quiet. I actually play the same motherf***er all the time. I like the loud ones yes, but I also like to do a quiet one."
As for Sarah Paulson's new character, Dr. Ellie Staple, who is tasked with rehabilitating our three main characters, we learn more about her in the trailer than we did during the pane. The same can be said for what Anya Taylor-Joy's character from Split is up to now and what her role in this crossover might be.
Bruce Willis teased that there are many secrets hidden in this movie that are yet to be revealed, and it sounds like we'll just have to wait to learn more about this anticipated mash-up of Unbreakable and Split.
Here's the official synopsis:
Following the conclusion of Split, Glass finds David Dunn (Bruce Willis) pursuing Kevin Wendell Crumb's (James McAvoy) superhuman figure of The Beast in a series of escalating encounters, while the shadowy presence of Elijah Price (Samuel L. Jackson) emerges as an orchestrator who holds secrets critical to both men.
Glass opens on January 18, 2018.