'Venom' Trailer: OMG, Have You Seen This Dude's Tongue?!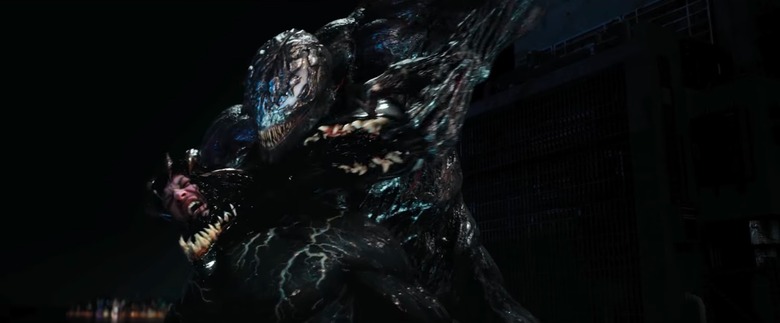 A new Venom trailer is here, and it has everything fans of the character could want: slime, tongues, and Tom Hardy talking to himself. The film is part of Sony's Spider-Verse (or is it the Venom-Verse? Answer unclear), a series of films which aren't connected to Marvel Studios' Spider-Man films, like Homecoming and the upcoming Far From Home. Confused? Don't worry! None of this matters. Watch the Venom trailer below!
Venom Trailer
Oh Venom, you so crazy. Look, I don't know what to make of this whole Venom thing. The character of Venom has aged extremely poorly – he was created back in an era where comics were venturing into the extreme, and everything had to be dark and gritty. How dark and gritty was Venom? Well, let's just say, I once had a Venom action-figure that screamed "I'M GONNA EAT YOUR BRAIN!!!" when you pushed a button on his back.
This new trailer is...something. It's tone is a bit wonky – on one level, you can tell that this film wants to be dark and gritty. On the other hand, there's also a goofiness on display here, what with Tom Hardy talking to himself and turning into a slime monster. Will this work? We'll find out soon.
The biggest issue with this whole thing is that Venom is, by nature, a Spider-Man character. But Spider-Man will apparently not be appearing in this Venom-solo film. So can Venom work without his main adversary? I guess we'll find out! I will admit that the footage I've seen of Venom looks pretty entertaining. The film style makes it look like a late '90s thriller, and I'm not entirely against that. Plus: director Ruben Fleischer has assembled one hell of an impressive cast. In addition to Tom Hardy as Eddie Brock/Venom, we also have Michelle Williams wearing a wig, Riz Ahmed as the bad guy, Jenny Slate as an awkward scientist, and Woody Harrelson in a mysterious role (rumors have it he might be playing Carnage, but who knows).
In the past, we learned that Venom would be drawing on two specific comics for its story: Lethal Protector and Planet of the Symbiotes. Lethal Protector was the comic that turned Venom from a straight-up villain to more of an anti-hero. It also had the character leaving his Spider-Man roots behind: he left Spidey's home of New York City for San Francisco. Planet of the Symbiotes, meanwhile, featured Venom dealing with an alien invasion. In that story, Venom teamed with Spider-Man, and Scarlet Spider, but that's very, very unlikely to happen in this film. Carnage made an appearance in that comic run as well, which has helped fuel rumors the character might pop up in some form in this movie.
Venom opens October 5, 2018.
One of Marvel's most enigmatic, complex and badass characters comes to the big screen, starring Academy Award® nominated actor Tom Hardy as the lethal protector Venom.