'Three Identical Strangers' Is Being Turned Into A Feature Film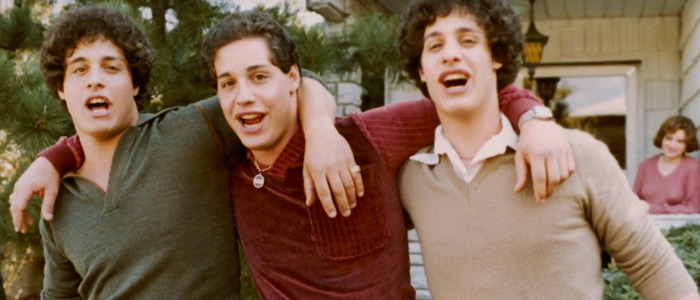 Sometimes truth is stranger than fiction. And when that's the case, you know that Hollywood will make a movie out of it.
Three Identical Strangers, the shocking documentary that made waves at Sundance, is getting a feature film adaptation. And now the hard-to-believe story of identical triplets separated at birth only to learn of their siblings' existence 20 years later will now be turned into a feature film.
Indiewire reports that Raw, the studio that produced Tim Wardle's documentary, has announced that it's partnering with Film4 and Sidney Kimmel Entertainment to develop a feature adaptation of the story.
"[T]his is an incredible series of true events that naturally lends itself to a narrative telling, and we are delighted to be working with SKE and Film4 to bring Robert, David and Eddy's story to the widest audience possible," Raw's Katherine Butler said of the project.
The documentary, which premiered at Sundance earlier this year to rave reviews and earned the U.S. Documentary Special Jury Award for Storytelling, chronicles the story of a set of triplets who were separated at birth. Reunited 20 years later, the brothers set out to discover the truth behind their adoptions, and discover something much darker, and weirder along the way.
Here's the synopsis for the Three Identical Strangers documentary, which is currently playing in select theaters.
Identical triplets become separated at birth and adopted by three different families. Years later, their amazing reunion becomes a global sensation but also unearths an unimaginable secret that has radical repercussions.
"Robert, David and Eddy's extraordinary story made a huge impact on me when I saw 'Three Identical Strangers' at Sundance," added Film4's Daniel Battsek. "We were all struck by its dramatic potential and look forward to the challenge of capturing the emotion and revelations of the triplets' journey, with our partners at Raw and SKE."
No details on casting has yet been released, and no director or writer has been attached. But it's a meaty part for any actor — who will likely take on the triple role of all three brothers.
Watch this space here as more details emerge on the Three Identical Strangers movie.