'Deadpool 2' Star Zazie Beetz In Talks To Join 'Joker' Opposite Joaquin Phoenix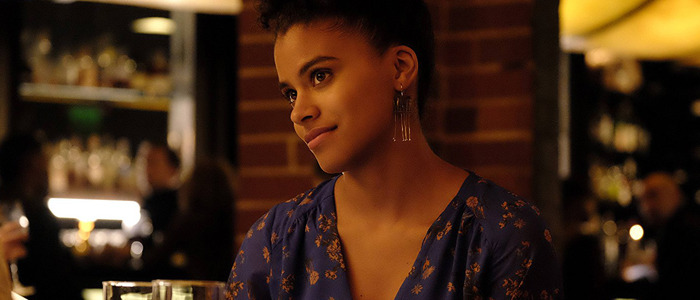 Looks like Zazie Beetz is heading from Atlanta to Gotham City.
The actress, who recently played the superhero Domino in 20th Century Fox's Deadpool 2, is now in talks to join Warner Bros.' Joker, the Joker origin film that has three-time Oscar-nominee Joaquin Phoenix set to play Batman's arch nemesis. Learn about the Zazie Beetz Joker casting below.
The Hollywood Reporter says that Beetz, who broke out playing the character of Van on Donald Glover's FX series Atlanta, is now in talks to join Joker, WB's standalone movie about the origins of Gotham City's Clown Prince of Crime. Details about the film are still largely being kept under wraps, but THR says that if Beetz officially signs on, she "would play a single mother who catches the interest of the man who will become" The Joker.Todd Phillips (The Hangover) is directing, and Martin Scorsese is executive producing the film, which is said to nod to his 1983 movie The King of Comedy, which starred Robert De Niro as a delusional comedian who thinks he deserves major success. Like Alan Moore and artist Brian Bolland's famous comic The Killing Joke, this 1980s-set movie will portray the Joker as a failed comedian. In that comic, we see flashbacks of the Joker as an engineer who quits his job to become a stand-up comic. But he's terrible at it, and he turns to crime out of desperation. During a heist gone wrong, he falls into a vat of chemicals and transforms into the Joker as we know him today.
In the comic, the soon-to-be-Joker has a pregnant wife – could Beetz be playing that character? Attempting to support his family is what leads him to participate in the crime that ultimately becomes his undoing, and while I've greatly enjoyed Beetz's work in the past (she's the best part of Deadpool 2), I'm not sure I trust Phillips to craft a reasonable, well-rounded female character in a movie like this. Then again, Beetz doesn't strike me as someone who would take a part like this unless she found something to sink her teeth into, and Phillips is co-writing the script with Scott Silver, who wrote The Fighter. So maybe I'm being too cynical. (Maybe.)
Joker begins filming this fall in New York and arrives in theaters on October 4, 2019.