Black Panther's Genius Sister Shuri Is Getting Her Own Marvel Comic Book Spin-Off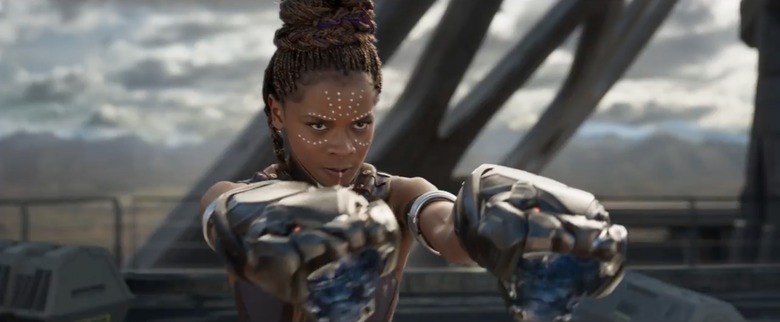 T'Challa's sister Shuri, played in the Marvel Cinematic Universe by Letitia Wright, was so wildly popular that she prompted calls for a movie spin-off. But Marvel will do you one even better: a Shuri comic book series simply titled Shuri will be coming soon from award-winning author Nnedi Okorafor.
Spoilers for Avengers: Infinity War follow.
Shuri, Black Panther's scene-stealer and teen genius extraordinaire, will be getting her own Marvel comic book spin-off, Bustle revealed. Penned by Okorafor, who wrote the digital comic series Black Panther: Long Live the King for Marvel, Shuri will feature art by Hawkeye artist Leonardo Romero and will be available this fall.
"[Shuri is] an African young woman of genius level intelligence who is obsessed with technology and has traveled spiritually so far into the past that she's seen Wakanda before it was Wakanda," Okorafor told Bustle. "The Ancestors call her Ancient Future. And she's super ambitious. What do I love about her? Alllll that and more. She's a character in the Marvel Universe who really sings to me."
The comic will tie in with Ta-Nehisi Coates' current Black Panther comic book run, which finds T'Challa lost in space while exploring the Intergalactic Empire of Wakanda, leaving Wakanda without a ruler. So who else should step up but T'Challa's little sister, the next in line for the throne? But she's not so eager to rule and be pulled away from her high-tech lab to uphold her duty to Wakanda.
Here is the official Marvel synopsis for Shuri:
"Shuri is happiest in a lab, surrounded by gadgets of her own creation. She'd rather be testing gauntlets than throwing them. But a nation without a leader is a vulnerable one — and Shuri may have to choose between Wakanda's welfare and her own."
While this is no spin-off movie with the rest of the Black Panther ladies, Shuri could be Marvel testing out the waters for future stories centered around the teen genius. With the MCU's Phase 4 still largely unannounced and the potential for new-generation superhero teams posed by Marvel Studios president Kevin Feige, this could mean we'll eventually see a Shuri solo TV show or even a movie.
Or perhaps Shuri stepping up to the throne could be a hint at a movie coming much sooner: Black Panther 2. With T'Challa missing in action following the events of Avengers: Infinity War, could we see Shuri take on the crown in either Avengers 4 or Black Panther 2? We're ready to hail our new queen.
Shuri hits comic book shelves in October 2018.