'Mayans M.C.' Trailer: Meet The New Prospect Of The 'Sons Of Anarchy' Spin-Off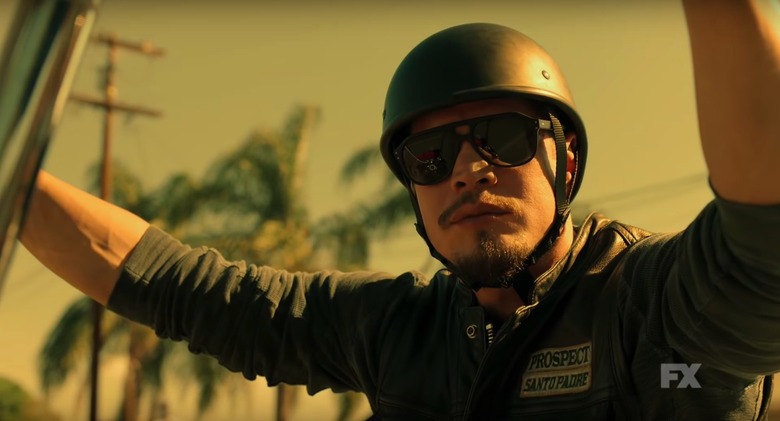 Get ready to ride with the boys again. FX has dropped the new Mayans MC trailer ahead of the Sons of Anarchy spin-off's panel at San Diego Comic-Con this weekend. Mayans M.C. picks up right where Sons of Anarchy left off, following Ezekiel "EZ" Reyes (J.D. Pardo), a former golden boy turned ex-convict who becomes the newest prospect for the Mayans M.C. charter operating at the border between Mexico and California.
Mayans MC Trailer
Co-created by Sons of Anarchy creator Kurt Sutter and Elgin James, Mayans M.C. is a thrilling new motorcycle drama that attempts to carve its own identity away from the popular FX predecessor — just as its main protagonist tries to forge his own identity. While previous teasers have payed tribute to Charlie Hunman's Jax Teller, the new Mayans M.C. trailer is all about EZ Reyes.
Reyes is a former convict who finds himself torn between his old world and the enticing world of the outlaw motorcycle club, Mayans M.C. But when his old girlfriend (Sarah Bolger) gets threatened, those two worlds may soon collide.
FX released this trailer ahead of the Mayans M.C. Comic-Con panel at Hall H on Sunday, where the cast and writers will make an appearance. Sutter and James will be at the panel, along with executive producer/director Norberto Barba and stars J.D. Pardo, Sarah Bolger, Clayton Cardenas, Edward James Olmos, Michael Irby, Carla Baratta, Antonio Jaramillo, Raoul Max Trujillo, Richard Cabral, Danny Pino, Emilio Rivera, Frankie Loyal, Joseph Lucero, and Vincent Rocco Vargas.
Here's the official synopsis for Mayans M.C.:
Mayans M.C. is a drama series from Kurt Sutter and Elgin James, and is the next chapter in the Sons of Anarchy saga. Set in a post-Jax Teller world, EZ Reyes is a prospect in the Mayans M.C. charter on the Cali/Mexi border. Now, EZ must carve out his new identity in a town where he once was the golden boy with the American Dream in his grasp. Produced by Fox 21 Television Studios and FX Productions.
Mayans M.C. premieres on FX on September 4, 2018.