'Springsteen On Broadway' Is Coming To Netflix This December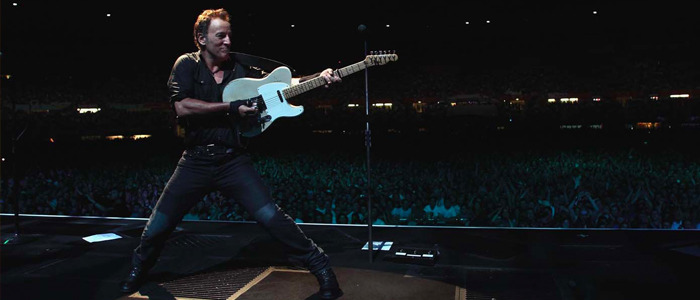 Fans of American music icon Bruce Springsteen will soon be able to Spring-stream his one-man show on Netflix. Read more about when you'll be able to catch The Boss's Springsteen on Broadway on the streaming service.
Netflix has announced that Springsteen on Broadway, rocker Bruce Springsteen's one-man show that he's been performing for years, will be available to stream starting December 15, 2018. Rolling Stone points out that that's the same day the singer/songwriter is supposed to end the show's run at New York City's Walter Kerr Theater.
Springsteen, known for hit songs like "Born to Run," "Dancing in the Dark," and "Born in the U.S.A.," is legendary for his lengthy and satisfying live performances. He began performing the one-man show in October of 2016, when it was initially set to run for only six weeks. But since then he's extended it multiple times, and the last date in sight is currently slated for December 15 – though there's always the chance he could extend it again, possibly even in a different theater, or maybe even take the show on the road.
Netflix is overflowing with stand-up comedy specials, but comparatively, the service doesn't have nearly as many concert films available to stream. There are a few – Hans Zimmer Live in Prague, Justin Timberlake + The Tennessee Kids, and Barbra Streisand: The Concert are all streaming now – but there are far more music documentaries available than pure concerts. Springsteen on Broadway sounds like it'll just be the man himself on stage performing, although a statement from Netflix Chief Content Officer Ted Sarandos implies that it somehow breaks the mold of a typical concert experience:
"We are thrilled to bring Bruce Springsteen – a master storyteller, humanitarian and voice of the everyman – to Netflix in this historic one-man show. This groundbreaking experience defies the boundaries of theater, concerts and film and will give our global audience an intimate look at one of the biggest cultural icons of our time."
We'll have to wait until December to see what Sarandos means, when Springsteen on Broadway film will be competing for your attention opposite theatrical films like Mortal Engines and Spider-Man: Into the Spider-Verse.