'Narcos: Mexico' First Look: Diego Luna And Michael Pena Fight The Mexican Drug War In Season 4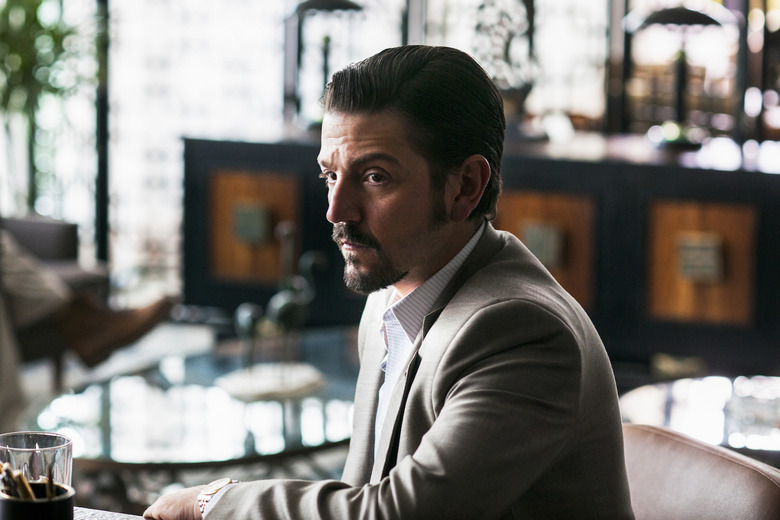 Netflix is hitting the reset button with Narcos, relaunching the acclaimed thriller as a new original series that shifts the focus from Colombia to the Mexican drug war. The fourth season comes with a brand new title, Narcos: Mexico, and brand new leads in Michael Peña and Diego Luna. Now the streaming giant is offering a first look at Peña and Luna in character as a clashing DEA agent and Mexican cartel lord, respectively.
Peña and Luna take over from former Narcos stars Pedro Pascal, Boyd Holbrook, and Wagner Moura, as the series travels from the streets of Colombia to the borders of Mexico. No longer is the series centered around infamous Colombian drug lord Pablo Escobar, but on global drug wars in general — bringing to the forefront the one that U.S. audiences are probably most familiar with: the modern Mexican drug war.
Narcos Season 4 First Look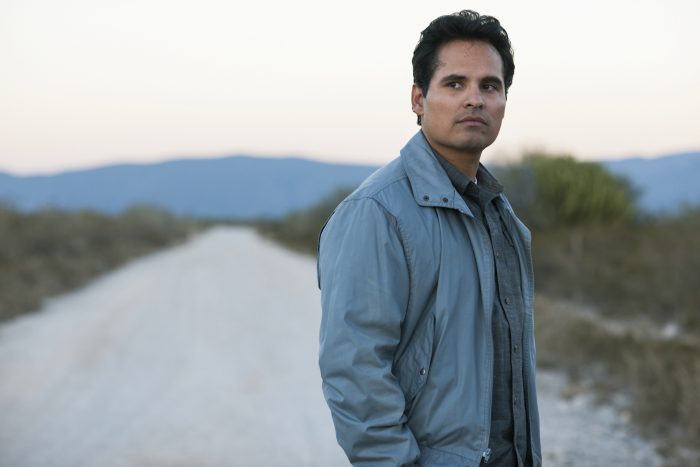 Peña will play Kiki Camarena, an undercover DEA agent "who garnered valuable intel through a series of informants around Félix and his newly minted Guadalajara cartel, but quickly found himself in c as he realized he had completely underestimated the sophistication of Gallardo's system."
Luna is his foe, Miguel Ángel Félix Gallardo ("Félix"), the leader of the Guadalajara cartel who goes on to be one of the biggest narcos in the history of Mexico and the founder of the modern Mexican drug trade. Netflix describes Felix as "quiet but bold, inscrutable but sharp-minded, to all appearances he is a benevolent leader, loyal to his friends, associates, and employees...but his ambition comes before all else."
Here's the synopsis for the reworked Narcos:
Shifting away from Colombia, where Narcos spent three seasons, Narcos: Mexico will explore the origins of the modern drug war by going back to its roots, beginning at a time when the Mexican trafficking world was a loose and disorganized confederation of independent growers and dealers. Witness the rise of the Guadalajara Cartel in the 1980s as Félix Gallardo (Diego Luna) takes the helm, unifying traffickers in order to build an empire. When DEA agent Kiki Camarena (Michael Peña) moves his wife and young son from California to Guadalajara to take on a new post, he quickly learns that his assignment will be more challenging than he ever could have imagined. As Kiki garners intelligence on Félix and becomes more entangled in his mission, a tragic chain of events unfold, affecting the drug trade and the war against it for years to come.
The star-studded cast of Narcos also includes Aaron Staton as Butch Sears, Alejandro Edda  as Joaquin "Chapo" Guzman, Alfonso Dosal as Benjamin Arellano, Felix Alyssa Diaz as Mika Camarena, Clark Freeman  as Ed Heath, Ernesto Alterio  as Salvador Osuna, Nava Fermín Martinez as Juan Jose Esparragoza Moreno ("El Azul"), Fernanda Urrejola as Maria Elvira, Gerardo Taracena as Pablo Acosta, Gorka Lasaosa as Hector Palma, Guillermo Villegas  as Sammy Alvarez, Horacio Garcia Rojas as Tomas Morlet, Jackie Earle Haley as Jim Ferguson, Joaquín Cosío as Don Neto (Ernesto-Fonseca Carillo), Lenny Jacobson  as Roger Knapp, Manuel Masalva as Ramon Arellano, Felix Matt Letscher as James Kuykendall, Tenoch Huerta as Rafael Caro, Quintero Teresa Ruiz  as Isabella Bautista, Tessa Ia as Sofia Conesa, and Yul Vazquez  as John Gavin.
José María Yazpik is the only actor to reprise his role in Narcos, returning as Amado Carrillo Fuentes.Narcos: Mexico will premiere on Netflix sometime in 2018.