'Nightmare Cinema' Projects A Fun Midnight Anthology [Fantasia Film Festival]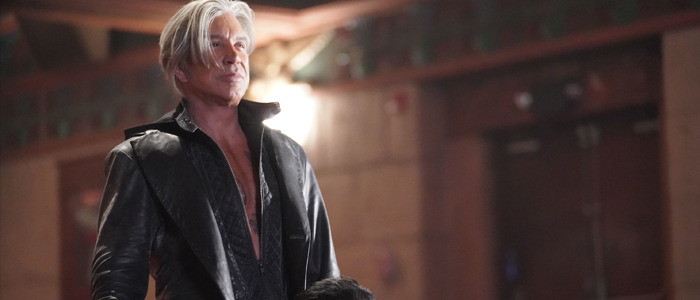 Just as countless horror anthologies of past years have been defined by their own grab bag results, Nightmare Cinema is a mixed collection of eerie crescendos and deflating downswings. Joe Dante. Mick Garris. Alejandro Brugués. Ryûhei Kitamura. David Slade. These directors would fill the roster of any movie lover's Murderers' Row, and their collective worth skews towards positive reactions with an emphasis on differentiation. Their segments take ambitious swings and rarely skimp on absurdity, to a degree where the highest peaks overshadow the shallowest valleys.
Could this be thanks to Mr. "Projectionist," Mickey Rourke's wraparound purveyor of nasty delights whose old-school theatrical torture ushers in each story with opening night menace? Maybe not entirely, but boy does Nightmare Cinema introduce one maliciously memorable mascot.
For "The Projectionist" – six connectors overseen by Mick Garris – Mr. Rourke beckons sinners of nefarious ranges to their "final screening." From lip-locked lovers to broken-hearted dames, "victims" enter an abandoned cinema purgatory still dressed to the nines ("Rialto," lit brightly outside). Secluded balconies, velvety red seats, a marquee that swaps segment titles – this is no AMC or Bowtie chain. After each onlooker finds suitable seating, they're shown a film starring themselves. Maybe it pertains to locked-away secrets, but what's certain is The Projectionist (no name) stalks the grounds to relish in his undertakings. Rourke slithers and cackles with leathery sadism, savoring each eternal sentence. In terms of anthology architects, The Projectionist ranks high on those I'd enjoy presenting more tales of terror.
First to impress is Brugués' "The Thing In the Woods," an anti-conformity slasher that plays against Friday The 13th archetypes. Final girl generics instantly suggest recycled ideals – especially since Brugués' motivations are slow to reveal themselves – until "The Welder" stokes fun-filled midnight fires by scorching through partygoers. Effects may not conjure creatures beyond simplistic CGI forms, but practical death sequences hack-n-slash like '80s corpse grinders of yesteryear. It's campy, splattery, and packed with satirical nods to genre norms fans might mock with fervent frustration. Just know it's all generic with purpose, down to summer-sexy dressed caricature types and the slasher villain kills they so savagely experience after a simple "F*** science!"
Up next is Dante's "Mirari," which centers on poor Anna's (Zarah Mahler) body-modifying ode to superficial vanity and the lies romance can sell. Locations favor hospital surgery wings and largely remain inside operating rooms, except for Anna's sadistically chilling daydream about her "fixed" self's joyous white wedding – interrupted by the segment's blood-covered surgeon (played by Richard Chamberlain) standing where a priest should be. Think The Purge level "rich white folks grinning," but unfortunately Dante's full segment is never as captivating as this glimpse of some bride-to-be as she walks the aisle towards her high-society butcher. The summation of paranoia isn't executed with sufficient punch, which makes "Mirari" one of Nightmare Cinema's weaker segments. It's trippy and tease-worthy, but better at servicing quick shocks than telling a story worth keeping audiences awake at night...even with a Botox-beastly final shot.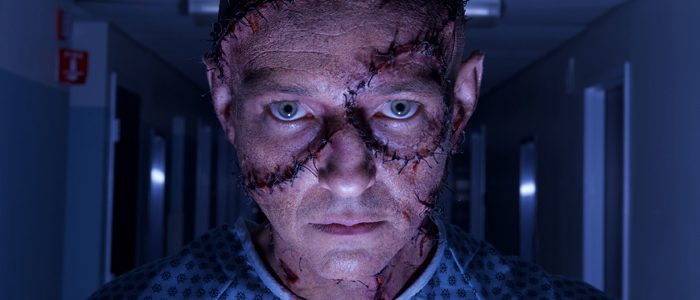 Luckily, Kitamura follows with the anthology's nastiest descent into hell as Father Benedict (Maurice Benard) battles a demon who punishes those who commit lust and incest in "Mashit." Between the kitchen sink vibe that gifts horror fans their very own church scene a la Kingsman: The Secret Service to musical accompaniment that recalls Tales From The Crypt (Goblin meets arena rock), Kitamura's witches' brew is a massively diabolical good time. Broadsword-brandishing possessed Catholic schoolchildren, gruesome faceplants – "Mashit" runs rampant with naughty nuns and religious blasphemy. In an anthology, you have to understand that getting in and getting out with ease isn't the simplest task, but Kitamura has no issue stealing the day through his downright evil B-grade take on The Omen (callbacks abound). All hail!
Pushing on is Slade's "This Way To Egress," a black-and-white mindmeld that very much enjoys torturing one's psyche over ghosts-and-goblin haunts. A mother, her two sons, and the wait for a doctor's appointment abruptly morphs into this alternate universe sculpted from Cronenbergian anxiety. Mama's warped perspective sees receptionists as Skrillex aliens and rains dystopian soot on an otherwise sterile business complex. It won't be everyone's speed (slow and psychotic), but artistic definition marries sci-fi sensationalism with hard-to-swallow thoughts of self-harm that are represented on screen with forceful agency. All the right buttons are pushed, making this fanciful Hail Mary the anthology's most endearing and heartfelt surprise. It's on par with Anthony Scott Burns' offbeat "Father's Day" in terms of pace-changing efficiency (Holidays).
Last but not least is Garris' "Dead," which goes very The Sixth Sense in terms of a boy whose afterlife brush grants him tremendous powers. And yes, the M. Night Shyamalan nod is intentional given how "I see dead people" vibes thread an expected story of parents left behind. Garris toys with some volatile layers given an orphaned child's ability to endure after being blasted by the same gun that violently disbanded his family, but the scares and storytelling are rather one-note. It's relentless as far as defensive finishers come into effect, but Garris has told murkier ghost stories with more staying power before. A weaker note to end on in comparison to sandwiched segments.
Nightmare Cinema works the format and brings legends together in a freakish, enthralling callback to similar anthology concept The Theatre Bizarre. It's Masters of Horror Lite, which certainly isn't a bad thing. Kitamura, Slade, and Brugués prove that horror is in good hands moving forward – and it's not as if Dante or Garris fail. Segmented multi-efforts face the unfortunate aspect of quick comparison points, and we've seen both legends execute on higher levels (this comes from someone who'd consider Gremlins and Gremlins 2: The New Batch perfect 5-star films). Press "Play" for The Projectionist, stay for Kitamura's unholy rampage, and eat it all up like the sugar-coated horror treat each segment is meant to be. I have a feeling there are more nightmares coming our way.
/Film Rating: 7 out of 10