'Who Is America?': Episode 2 Teaser, Premiere Ratings, Clips, And A Viral Website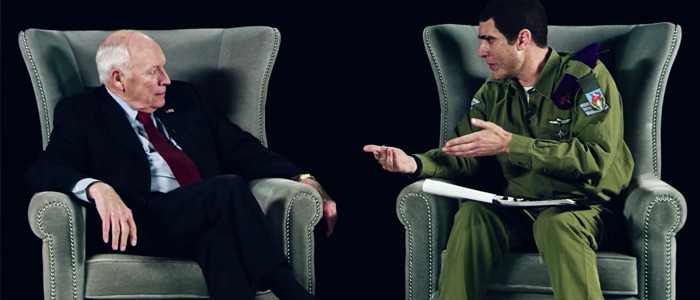 Comedian and professional provocateur Sacha Baron Cohen's comedy series Who is America? penetrated the pop culture zeitgeist with its surprise premiere this past weekend. But the numbers are in, and it turns out the ratings are smaller than expected.
Find out how many people actually tuned in, see some clips from the premiere, a teaser for the second episode, and learn about a viral website from one of Cohen's new characters that's been operational for months.
Who is America Clip
First up, here's a quick clip from the premiere in which Baron Cohen suits up as a new character named Billy Wayne Ruddick, Jr., Ph.D, and tries to flummox Senator Bernie Sanders. As you might expect, things get awkward very quickly. I must admit, I'm not entirely sure what Baron Cohen was going for here. Sometimes the performer's motives are clear, and other times I'm wondering what kind of outcome he was hoping for...other than simply to confuse Sanders. If that was it, then mission accomplished.
Entertainment Weekly says the premiere episode only pulled in 327,000 viewers and a 0.1 rating among adults 18-49 at its 10pm slot. That's pretty low, although Showtime says that On Demand views and repeats that have aired on the network have now catapulted the total number over 1 million. For comparison, early estimates indicated that The Cloverfield Paradox – another property that was essentially dropped as a surprise without the traditional long lead-up of advertising beforehand – pulled in 2.8 million viewers in its first three days on the streaming service. (That Nielsen estimate needed to be used because Netflix still doesn't release its official viewership numbers.)
Of course, Who is America's relatively underwhelming viewership doesn't account for the clips that were floating around on Twitter about how Baron Cohen made gun lobbyists look like complete morons, at least one of which was viewed millions of times embedded the social media site's native video player.
Philip Van Cleave's explanation of how he got tricked by Sacha Baron Cohen is hilarious pic.twitter.com/BHtEJN1SFp

— Wild Geerters (@steinkobbe) July 17, 2018
Cohen is still clearly doing something right, because the show's premiere was still enough to cause a firestorm online, leading Showtime to actually issue a press release yesterday about the "widespread misinformation" that was being spread about the show, largely pertaining to the fact that Baron Cohen did not present himself as a disabled veteran during his interviews with Sanders and former Alaska governor Sarah Palin.
Who is America Episode 2 Teaser
Viral Website
Meanwhile, Business Insider points out that Baron Cohen's Billy Wayne Ruddick, Jr. character, a conspiracy theorist, has been running a website called Truthbrary.org, a real site that was established in October of last year (and is probably actually run by a Showtime employee). I couldn't read more than a few paragraphs (too real!), but the site is full of conspiracy theorist talking points: aliens, questioning Obama's birthplace, Satanist Illuminati members, faking the moon landing, and plenty more. It looks like total garbage (on purpose, of course), but there's a clip embedded at the top of its homepage that everyone should watch if you haven't seen the show yet.
Who is America? airs Sunday nights at 10pm on Showtime.