'Hell Fest' Trailer: A Horror Movie Set At A Halloween Horror Nights-Type Event [Updated]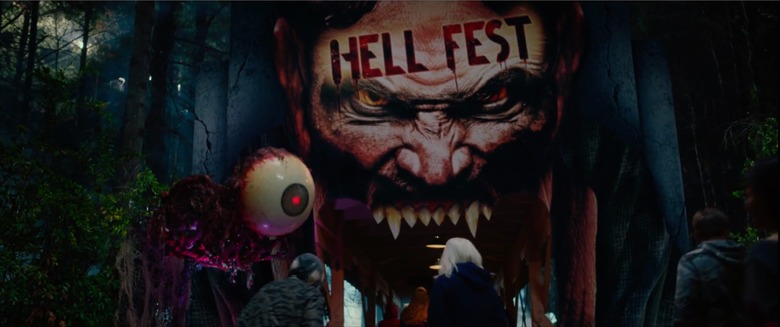 Update: A new press release informs us that Bear McCreary (The Walking Dead, 10 Cloverfield Lane, Happy Death Day) will compose the score for Hell Fest. Our original article follows.
In recent years, I've become a huge fan of haunted house attractions. Every year, Universal Studios and Knotts Berry Farm hold Halloween events with scary mazes which are a whole lot of fun. Some of my friends who love horror films absolutely refuse to ever go to these events. One of them even fears that she might be killed in a maze and nobody would notice and just think it'd part of the show, and her dead rotting carcass is just another gruesome prop in the set design.
Hell Fest is the movie version of that idea, and while the execution looks like a bland studio horror film, I'm intrigued enough by the idea and horror theme park setting to see this film in theaters. Check out the Hell Fest trailer below.
Hell Fest Trailer
As you can see, it doesn't seem like there is anything particularly special about this horror film other than the idea at its core. It doesn't even look that good, but the haunted house horror theme park concept is enough to warrant my interest (even though I'm sure I'll be disappointed).
The official synopsis for Hell Fest follows below:
A masked serial killer turns a horror themed amusement park into his own personal playground, terrorizing a group of friends while the rest of the patrons believe that it is all part of the show. College student NATALIE (Amy Forsyth) is visiting her childhood best friend BROOKE (Reign Edwards) and her roommate TAYLOR (Bex Taylor-Klaus). If it was any other time of year these three and their boyfriends might be heading to a concert or bar, but it is Halloween which means that like everyone else they will be bound for HELL FEST – a sprawling labyrinth of rides, games, and mazes that travels the country and happens to be in town. Every year thousands follow Hell Fest to experience fear at the ghoulish carnival of nightmares.
But for one visitor, Hell Fest is not the attraction – it is a hunting ground. An opportunity to slay in plain view of a gawking audience, too caught up in the terrifyingly fun atmosphere to recognize the horrific reality playing out before their eyes. As the body count and frenzied excitement of the crowds continues to rise, he turns his masked face to NATALIE, BROOKE, TAYLOR and their boyfriends who will fight to survive the night. A terrifying thrill ride from iconic horror producer Gale Anne Hurd (The Walking Dead, The Terminator), Tucker Tooley (Limitless, Den of Thieves) and director Gregory Plotkin (Paranormal Activity: The Ghost Dimension, Editor – Get Out, Happy Death Day), this September, audiences will discover that it's fun going in... but it's hell getting out.
Hell Fest hits theaters on September 28, 2018.