Amazon Orders 'Tales From The Loop' Based On The Art Of Simon Stalenhag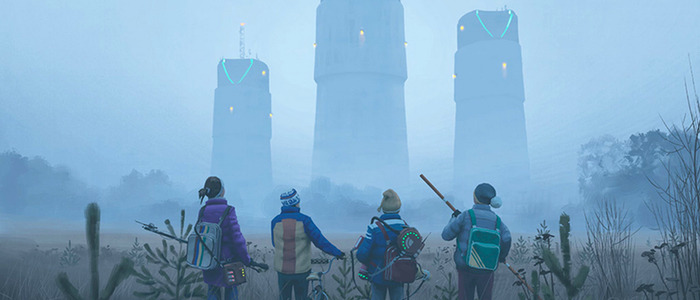 We may receive a commission on purchases made from links.
Amazon has given a greenlight to Tales From the Loop, a sci-fi series based on the art of Simon Stålenhag. One Hour Photo and Never Let Me Go filmmaker Mark Romanek will helm the pilot and will serve as executive producer. Read more about the new series below.
Simon Stålenhag creates gorgeous, memorable works of art. Usually the pieces have a running theme: mundane, even normal landscapes dotted with mind-blowing sci-fi contraptions. Here are a few examples.
Now, Stålenhag's art will be created in live-action for Amazon, with the Amazon series Tales From the Loop. Here's a synopsis for the show:
Based on the acclaimed art of Simon Stålenhag, Tales From the Loop explores the town and people who live above "The Loop," a machine built to unlock and explore the mysteries of the universe – making things possible that were previously relegated only to science fiction. In this fantastical, mysterious town, poignant human tales are told that bare universal emotional experiences while drawing on the intrigue of genre storytelling.
The prospect of bringing Stålenhag's art to life is pretty darn exciting. Equally exciting is the fact that Mark Romanek is directing the pilot. Romanek is a fantastic filmmaker who doesn't work nearly as much as he should. For a while he was attached to helm a prequel of The Shining, but that film failed to get off the ground. The rest of the series will be helmed by executive producer Nathaniel Halpern (Legion).
Stålenhag has a book of art titled Tales From the Loop as well, which will presumably serve as partial inspiration for the series. Here's the book's synopsis:
Simon Stålenhag's Tales from the Loop is a wildly successful crowd-funded project that takes viewers on a surprising sci-fi journey through various country and city landscapes – from small towns in Sweden and the deserts of Nevada to the bitter chill of Siberia – where children explore and engage with abandoned robots, vehicles, and machinery large and small, while dinosaurs and other creatures wander our roads and fields.
Stålenhag's paintings and stories take place in an alternate version of Sweden in the '80s and '90s, primarily in the countryside of Mälaröarna, a string of islands just west of Stockholm, and how this reality came about: the development of the Loop, a large particle accelerator and the side effects of the massive project.
"Simon Stålenhag's paintings are renowned for their vision of a not-too-distant, futuristic landscape. We are looking forward to bringing that to life and sharing it with our Prime Video audience," said Albert Cheng, Co-Head of Television for Amazon Studios.
"Nathaniel is a gifted storyteller who shares our passion for creating soulful, human stories that push the boundaries of genre programming and we're thrilled to be working with him on this series," added Sharon Tal Yguado, Head of Scripted Genre Programming for Amazon Studios.
"I was immediately intrigued by the idea of bringing Stålenhag's incredible paintings to life, but it's Nathaniel's deeply inspired vision for this world, and the stories he has created from an incredibly passionate and emotional place, that will drive this series and its storytelling. Together with Mark's brilliant visual sensibility and unique point of view, it makes this a truly exceptional project and the perfect one to partner with Amazon in our studio's first direct-to-series order at the streamer," commented Jane Francis, executive vice president of Fox 21 Television Studios.
Amazon has ventured into high-concept sci-fi before. Their Man in the High Castle is set in an alternate universe where the Nazis won World War II, and the show is loaded with sci-fi elements. They also produced Electric Dreams, an anthology series based on the work of Philip K. Dick.
There's no word yet on when we might see Amazon's Tales From the Loop, but we're looking forward to checking it out.