'Fantastic Beasts 2' Won't Feature Any Scenes Between Dumbledore And Grindelwald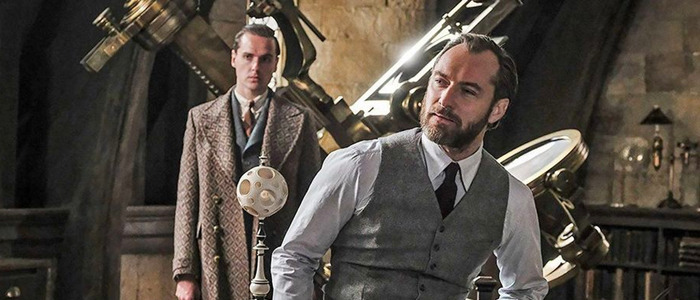 One of the reasons Fantastic Beasts: The Crimes of Grindelwald is so highly anticipated is the prospect of seeing a young, hot Dumbledore played by Jude Law. Well, and the fact that it's part of a spin-off from the most beloved children's fantasy series ever. And while we've been gifted with a few great shots of Dumbledore lounging in a dapper, tailored suit, one of the most important aspects of Dumbledore's youth has been largely left out: his sexuality.
In the second film of the Fantastic Beasts franchise, the Wizarding World lore will dive deep into Dumbledore's backstory and his conflicted relationship with the series' Big Bad, Grindelwald (Johnny Depp). But it seems like Fantastic Beasts is playing the long game: in Fantastic Beasts 2 Dumbledore and Grindelwald will share no scenes together.
In an interview with Entertainment Weekly, Law revealed that his version of Dumbledore will not share any scenes with the titular Gellert Grindlewald in Fantastic Beasts: The Crimes of Grindelwald. Law shared that he did not film any material opposite Grindlewald actor Johnny Depp for the sequel — and hadn't even met the actor in person yet:
"I don't actually have any scenes with Johnny. As I said before, this is only Part 2 of a longer story. I've always admired him from afar, but we don't know each other, and I've not yet met him on this. In many ways that suits the relationship as it's been many years since they've seen each other. So there's complexity in that that's fun to mine. Again, the past will reveal itself."
Why is this such a strange revelation? Because Dumbledore, who has been revealed to be canonically gay by Harry Potter author J.K. Rowling (who is also penning the Fantastic Beasts screenplays) and to have had a deep, unrequited relationship with Grindelwald. "Dumbledore fell in love with Grindelwald, and that added to his horror when Grindelwald showed himself to be what he was," she revealed to a crowd of Potter fans in 2007. So it's strange that two characters who have had a deep relationship with each other would not cross paths in the film that introduces the overwhelming threat of Grindelwald. (It also proves how easy it would have been to recast Depp after his allegations surfaced, but that's neither here nor there).
First, let's give this the benefit of the doubt. Fantastic Beasts is set to become a five-movie series, fleshing out the Wizarding World in the decades before Harry Potter even existed. The Fantastic Beasts series could be playing the long game when it comes to introducing Dumbledore and Grindelwald's relationship, perhaps building to an emotional reveal in a later movie.
But here's the thing. Fantastic Beasts director David Yates (who also directed the last four Harry Potter movies) has said that Dumbledore's sexuality will "not explicitly" be explored in the second Fantastic Beasts movie. Of course, this doesn't preclude the series from acknowledging that Dumbledore is gay in later films, but it does cast a troublesome shadow over the series. Will the franchise's first major canonically gay character's sexuality be retroactively erased? Was Rowling simply making an empty gesture to LGBT communities by establishing Dumbledore's sexuality after the book series was wrapped? It's too soon to say for now, but let's hope that those pesky thoughts will be unequivocally proven false in the future.
Fantastic Beasts: The Crimes of Grindelwald opens in theaters on November 16, 2018.
Magizoologist Newt Scamander joins forces with young Albus Dumbledore to prevent the devious Gellert Grindelwald from raising pure-blood wizards to rule over all non-magical beings.