A 'Batwoman' Series Is In Development At The CW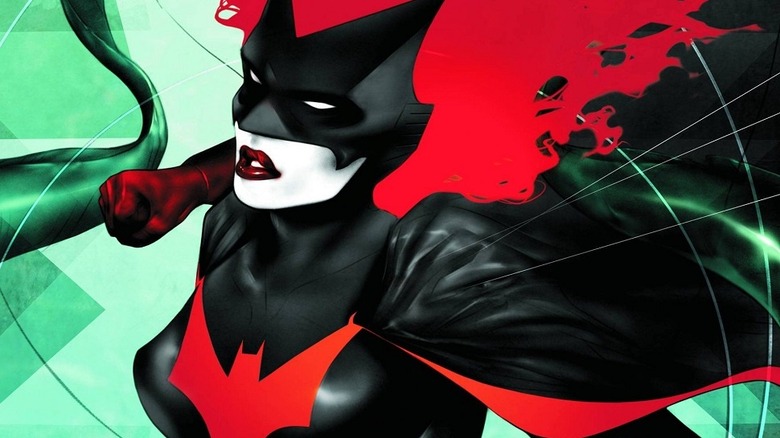 Looks like lesbian superhero Kate Kane will be getting more than just a brief Arrow-verse cameo.
Following the exciting reports that Batwoman would be making her Arrow-verse debut in the upcoming crossover event between Greg Berlanti's CW superhero shows, we've learned that the network is developing a full-fledged Batwoman series.
Entertainment Weekly reports that The CW is developing a script for a Batwoman series for 2019. News of this series comes soon after it was announced that Batwoman would make her Arrow-verse debut this December in the annual crossover event between Arrow, The Flash, and Supergirl — though without the fourth series, DC's Legends of Tomorrow.
Kate Kane is an openly gay Gotham City heiress who decides to take up the vigilante mantle of Batwoman after being inspired by Batman. But in the comics, she mostly exists on the periphery of Batman's "family" of orphans and Batgirls — she is a badass independent agent who doesn't need no Batman.
Here's the official logline for the potential series:
"Armed with a passion for social justice and a flair for speaking her mind, Kate Kane soars onto the streets of Gotham as Batwoman, an out lesbian and highly trained street fighter primed to snuff out the failing city's criminal resurgence. But don't call her a hero yet. In a city desperate for a savior, Kate must overcome her own demons before embracing the call to be Gotham's symbol of hope."
This is an exciting landmark for LGBT characters in superhero shows. Though Berlanti's CW shows have plenty of LGBT heroes in supporting roles, Batwoman would be the first live-action Arr0w-verse series starring an LGBT hero — if it's picked up, that is. The animated series Freedom Fighters: The Ray follows the openly gay superhero the Ray, voiced by Russell Tovey, who also played him in last year's Crisis on Earth-X crossover. While we're probably still years away from seeing a powerful gay superhero on the big screen (though maybe not that far), this is an amazing first step.
Even more exciting: this could potentially open the doors for even more Batfamily characters to enter The CW's growing superhero universe, including the Caped Crusader himself. Until now, Berlanti's shows have only vaguely hinted at the existence of Gotham and its vigilantes. Could Batwoman be the potential bridge to Gotham, and perhaps even to the DC streaming service's upcoming Titans series led by former Robin Dick Grayson (Brenton Thwaites)?
The Batwoman series, which has only reached the script development phase thus far, will be written by Caroline Dries, who is also executive producing alongside Berlanti, Sarah Schecter,and Geoff Johns.
The character of Kate Kane has not been cast yet (though may I suggest Bridget Regan?), but we'll probably find out who will play the fiery vigilante before the DC crossover event airs in December 2018.