'Bohemian Rhapsody' Trailer: Is This The Real Life, Is This Just Fantasy?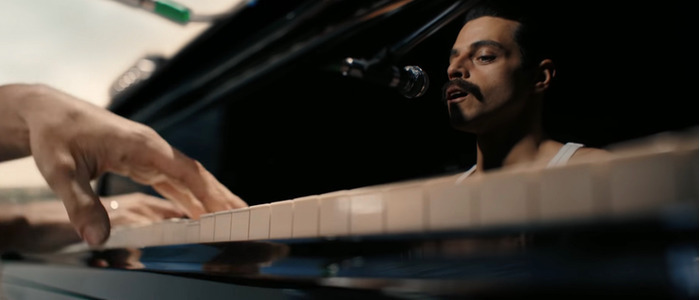 An all-new Bohemian Rhapsody trailer is here. It's a bit better than the previous one, but it still looks to be buried under the weight of biopic cliches. At the very least, it's clear Rami Malek is going to make a great Freddie Mercury. Watch the Bohemian Rhapsody trailer below.
Bohemian Rhapsody Trailer
Some people were impressed with the previous Bohemian Rhapsody trailer, but to me it played like a recreation of the hilarious Beatles scene from Rock Hard, where actors playing famous people sit around, announce their names, and then reference some of the big moments from their lives.
This trailer is a bit better, although those who felt the previous footage was "straight washing" Freddie Mercury's life likely will feel the same way about what's on display here as well (although there is a tiny bit more effort this time to address Mercury's sexuality). All that said, it's clear that Rami Malek is going to give this movie his all, and I wouldn't be surprised if he gets awards season consideration. And it's hard not to get excited when you hear all those classic Queen songs back to back.
Bohemian Rhapsody has a bit of a troubled history. There were rumors that the film would completely gloss over Mercury's battle with AIDS – a fact that made original star Sacha Baron Cohen exit the project. That may no longer be the case, however, as the new synopsis below does mention Mercury's AIDS diagnosis. Meanwhile, while the film is credited to Bryan Singer, Singer was fired after failing to show up to shoot for several days. In his absence, cinematographer Thomas Newton Sigel stepped in to film some scenes. Then 20th Century Fox brought in Dexter Fletcher to finish things up.
Bohemian Rhapsody, starring Rami Malek, Lucy Boynton, Gwilym Lee, Ben Hardy, Joseph Mazzello, Aidan Gillen, Tom Hollander, Allen Leech and Mike Myers, opens November 2, 2018.
Bohemian Rhapsody is a foot-stomping celebration of Queen, their music and their extraordinary lead singer Freddie Mercury. Freddie defied stereotypes and shattered convention to become one of the most beloved entertainers on the planet. The film traces the meteoric rise of the band through their iconic songs and revolutionary sound. They reach unparalleled success, but in an unexpected turn Freddie, surrounded by darker influences, shuns Queen in pursuit of his solo career. Having suffered greatly without the collaboration of Queen, Freddie manages to reunite with his bandmates just in time for Live Aid. While bravely facing a recent AIDS diagnosis, Freddie leads the band in one of the greatest performances in the history of rock music. Queen cements a legacy that continues to inspire outsiders, dreamers and music lovers to this day.