'Mamma Mia! Here We Go Again' Reviews: An Aggressively Sweet And Silly Sequel We Didn't Know We Needed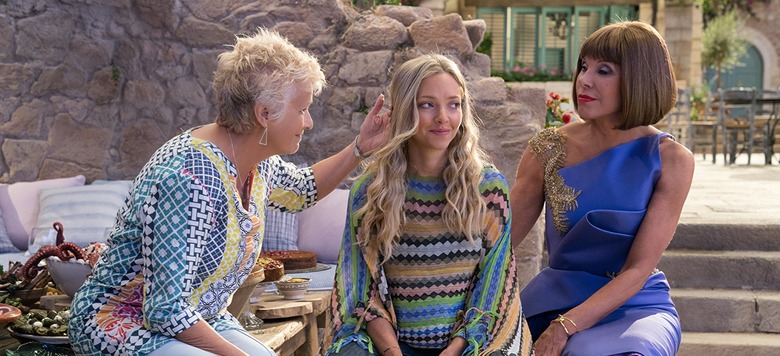 No one was clamoring for a sequel to 2008's Mamma Mia, the smash-hit jukebox musical based on the popular Broadway play. It was campy, kitschy, and just the right thing to put on in the background as you drank rosé and and reminisced of the glory days of ABBA. And yet, 10 years later, here comes a sequel as dazzling and dedicated to joy as the first one was. And critics say that it could melt our cold, cynical hearts.
The Mamma Mia! Here We Go Again reviews are here and, despite a healthy heaping of cynicism from the critics going into the films, they found themselves tapping their feet to the music. It's a silly, solid sequel that just may be what we need in these trying times.
See what critics are saying in their Mamma Mia Here We Go Again reviews below.
Entertainment Weekly calls the "glittery, aggressively winsome" Mamma Mia! Here We Go Again a much-needed breather from the "cinematic deluge of Ant Men and Infinity Wars."
A shiny-bright jukebox musical with a heart of gold and a plot of pure polyester, Mamma Mia! Here We Go Again works hard to be the feel-giddy movie experience of the summer.
You're going to love the musical sequel "whether you like it or not," Vanity Fair declares:
The pleasures of Ol Parker's film are simple and sensual, its riot of color and sweet, nostalgic songs proving wholly agreeable even without much of a plot to hold it all together. I went into the movie a bit of a skeptic—about jukebox musicals, about unnecessary sequels, especially ones without the original's main star—but left entirely won over, cheered and a little teary.
Variety calls the follow-up "kitsch patchwork" like its predecessor, yet in the end, it's a "love poem to the primal bond of mothers and daughters."
But now that there's a "Mamma Mia!" sequel, it can be said with certainty that the ABBA musical is a form unto itself — a shamelessly innocent (or maybe just shameless) scrapbook pieced together out of the world's most sublime ear candy, a story that sprawls in four directions at once (each subplot seems crafted by a different cookie cutter), an overdose of clowning by middle-aged actors who've been encouraged to take a fearless pride in what raffish physical specimens they've become, all held together by the transcendent classiness of Meryl Streep.
Empire promises "when all is said and done you might even be tempted to go again."
In its best moments, Parker recaptures the original's free-wheeling joy and energy — the young Donna, Rosie and Tanya (Lily James, Alexa Davies and Jessica Keenan Wynn, all excellent) tearing off their graduation robes to reveal stripy catsuits and feather boas in opening number 'When I Kissed the Teacher' is gloriously silly, picking up tonally right where Phyllida Lloyd's original film left off. James, given the unenviable task of continuing a role originated by Meryl Streep, is full of vitality and convincingly channels her free-spirited hippie vibes. But despite the cast's energetic efforts, the overlong prequel plot needs tightening — with the first film already recounting the basics of Donna's string of summer romances you'll know exactly where it's going, and luxuriant pacing results in a baggy middle hour.
The Mirror praises the sequel for sticking "to a winning formula":
With no real reason to exist other than the sheer spandexed and sequinned fun of it, there's an ambitious attempt to amp up the camp to an even greater level than the first outing.
Metro calls Mamma Mia! Here We Go Again a clear money grab but praises the cast, especially Lily James as a young Meryl Streep.
Where this follow-up really fails is the lack of connection it offers, which in large part can be placed on the head of new director Ol Parker. Here We Go Again fails because the different time lines don't flow nicely; one wonders if perhaps it would have been better for everyone involved if the story had purely focused on young Donna and her journey to motherhood and self-acceptance.
The Independent warns that the movie is almost exclusively for fans of "ABBA, spandex or glitter," but those who do love it will be suitably entertained.
With so many songs to accommodate, it's a small miracle that writer-director Ol Parker and his team have managed to give the film the mild complexity it possesses. They've also managed to keep affairs very cheery and upbeat. Nothing causes too much dismay.
The Guardian colorfully describes the sequel as a "feta fever dream sequel" that "is weirdly irresistible":
Something in the sheer relentless silliness and uncompromising ridiculousness of this, combined with a new flavour of self-aware comedy, made me smile in spite of myself: there are funny, campy performances from Cher, Christine Baranski, Julie Walters and also Alexa Davies as Walters's younger self, and some very good lines.
The Hollywood Reporter wasn't quite as taken with the film as other critics, calling the movie "OK, but the record is scratchy."
Parker, a more competent and imaginative director than Mamma Mia!'s stage-show holdover Phyllida Lloyd, likes to assemble the musical numbers in such a way as to recall the very earliest days of pop videos, with snappy editing or Busby Berkeley-style overhead shots of choreography veering on abstraction. The result is to make this feel much more like a throwback to old-school musicals in all their corny glory. It helps that the cast looks like they're having a right old hootenanny of a time, practically winking at the audience, in on the joke all the way. And best of all, we don't have to listen to Pierce Brosnan's atrocious singing too much.
Huffington Post UK calls the sequel "unashamedly joyous, cheesy," but gives Mamma Mia! Here We Go Again its whole-hearted approval.
If you've bought a ticket to see 'Mamma Mia! Here We Go Again', then chances are, you already know what you've signed up for. Unless you're being dragged along by a longtime fan of the first film, ABBA or the stage musical then you know the drill and what to expect: And the resulting film will not disappoint.
***
Mamma Mia! Here We Go Again seems to be made exclusively for fans of the campy original. And that's okay. It's a much-needed dose of sickeningly sweet camp, and provides a necessary outlet for those tired of superhero blockbusters. Not to mention, you get to see Cher belt ABBA songs for almost two hours. What's not to love?Mamma Mia! Here We Go Again opens in theaters on July 20, 2018.